The top ten edible mushrooms in Rías Baixas
Saffron milk caps, chanterelles, parasol mushrooms… You will discover the most common edible mushrooms which can be found in the woods of the province of Pontevedra
---
In the woods of the province you can find a great variety of edible mushrooms, growing almost everywhere. However, there are some typical areas where they can be collected which have become essential for mushroom hunters, as they are rich in specimens and easily accessible.
Among the most visited woods you can find, for example, O Vixiador in the parish of Candeán, and the woods surrounding the University of Vigo, in the area of Vigo; nearby the Castiñeiras Lake, in the region of O Morrazo; in the Castrove Hill, between the towns of Meis and Poio; in the coastal pine groves of the region of O Salnés (Sanxenxo, O Grove and A Illa de Arousa), and in inland areas of the province, as on the banks of the Ulla River and the oak and chestnut woods in the towns of Lalín, Silleda and Forcarei.
Here you will find, in alphabetical order, the top ten collected edible mushrooms, included in the list for their quality and for being easily identifiable. All of them are used in cooking and are a delight for mushrooms lovers.
Top ten edible mushrooms
1. Agaricus campestris
Also known as wild mushroom or, in the Galician language, as fungo dos lameiros. It is a small white mushroom which grows in spring and autumn in meadows and rich well-fertilized gardens.
2. Boletus of the edulis type
Four similar edible species are included in this group: Boletus edulis, Boletus aestivalis, Boletus pinophilus and Boletus aereus. They are all brown and grow in conifer or hardwood forests. In Galician they are also known as andoas.
3. Cantharellus cibarius and Cantharellus pallens
These are very similar species. They are known as cantarelas in As Rías Baixas, and they resemble a trumpet in shape. Chanterelles' colour depends on the features of the soil where they grow, although it usually ranges from whitish-yellow to orange.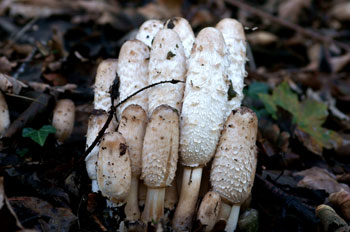 4. Coprinus comatus
Also known in the province as chipirón de monte (squid of the woods) because of its shape. It has a long very characteristic cap. It grows in meadows, gardens and grasslands.
5. Craterellus tubaeformis
Known in As Rías Baixas as angula do monte (elver of the woods), because the stalk of the mushroom resembles this fish when cooked. It can be found in deciduous forests, pine groves and eucalyptus plantations in late autumn, when temperatures drop.
6. Hydnum repandum
The sweet tooth, wood hedgehog or hedgehog mushroom, also known in Galician as lingua de gato or lingua de vaca, grows, as the previous one, during late autumn, that is, from November onwards. It is cream-coloured and can be found in hardwood forests, pine groves and eucalyptus plantations.
7. Lactarius deliciosus
The saffron milk cap, also referred to as fungo da muña in some Galician areas, is a type of mushroom very appreciated in gastronomy. In fact, many mushroom hunters only collect these species. It is common in pine groves and has a very characteristic orange colour and latex.
8. Macrolepiota procera
The parasol mushroom, also known in Galicia as zarrota, monxo or choupín, is easily distinguishable because it is large and thin and its cap diameter may reach 40 cm. It grows in light forests, meadows and well-fertilized soils.
9. Neoboletus erythropus
Formerly called Boletus erythropus. It is a mushroom of the boletus type. It has a brown cap, red pores and yellow flesh which turns blue when it comes into contact with air. Its habitats are hardwood forests and pine groves.
10. Tricholoma portentosum
This mushroom, known as tortullo, has a grey cap and a whitish stalk with touches of pale yellow. It develops in pine groves when the cold temperatures arrive, that is, from November onwards.
From this list, five are the most hunted species of mushrooms in Pontevedra: boletus, chanterelles, the sweet tooth, saffron milk caps and parasol mushrooms. In addition, there are other species which are highly appreciated for their edible quality but they are rare in the area as the Caesar's mushroom (Amanita caesarea), Saint George's mushroom (Calocybe gambosa) and the horn of plenty (Craterellus cornucopioides).
A fashionable activity
Mushroom hunting is an activity with an increasing number of followers. The reason behind that includes not only the pleasure of tasting the products you pick, but also the whole experience as going to the woods in autumn with family or friends.
Actually, in the province of Pontevedra, it is a relatively recent hobby whose tradition does not extend beyond the '70s. The first mushroom hunters' descendants are the second generation of hunters and they are making a great effort to spread the pleasure of mycology among the general public.
Today, there are several groups of enthusiasts in the main towns of As Rías Baixas aimed at teaching and promoting the world of the mushrooms, as Brincabois, in Pontevedra; Liboeiro, in Bueu; A Cantarela, in Vilagarcía de Arousa; A Zarrota, in Vigo; and A Estrada Micolóxica. These associations organize tastings, workshops, series of conferences, exhibitions and trips to the woods, among other activities.
This information has been collected in collaboration with Jaime B. Blanco Dios, of the association Brincabois from Pontevedra.