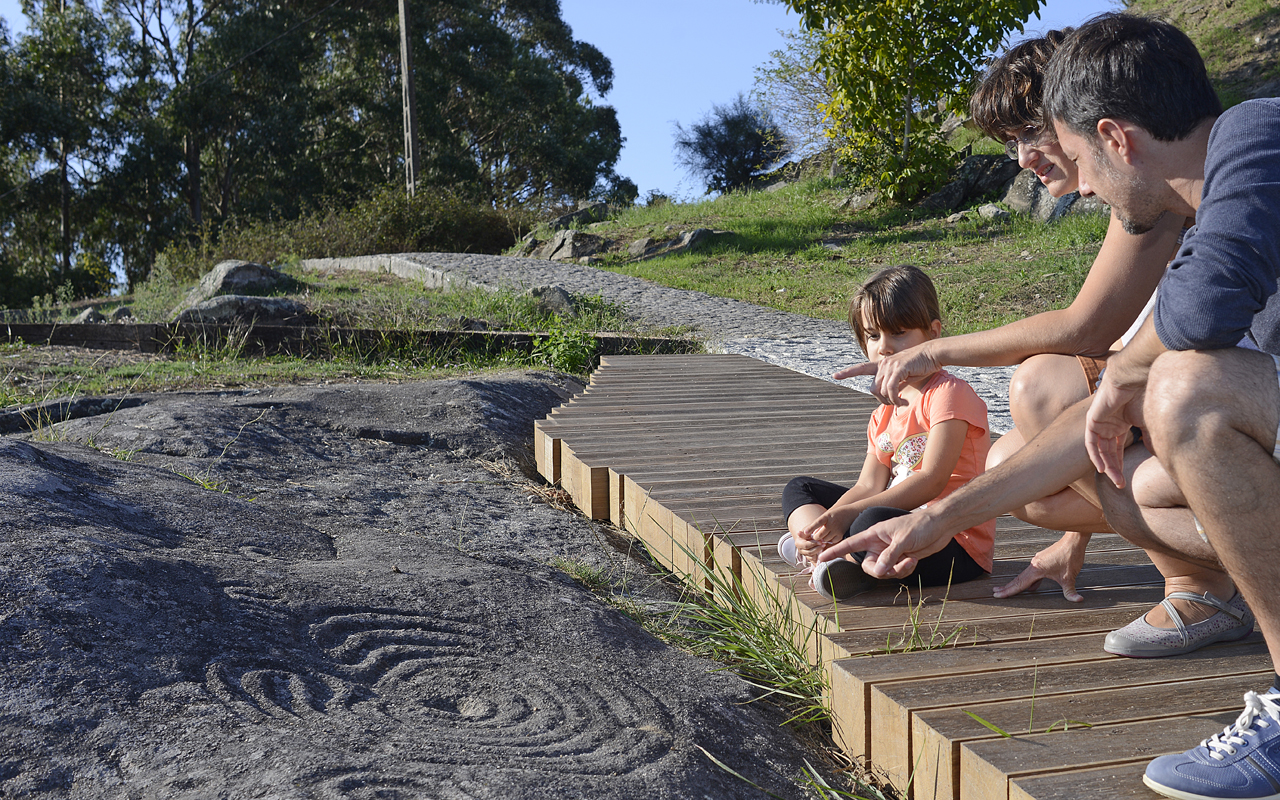 Archaeological sites in Rías Baixas: mámoas and petroglyphs
One feature of the Neolithic in the northwest of the Iberian Peninsula was to build memorials by piling stones or soil, usually in a circular way, sometimes placing a large stone inside called dolmen. But at that time the people not only left their mark at the end of their lives. Many figurative and abstract rock carvings allow us to theorize about the everyday life of those inhabitants of the province of Pontevedra.
---
Starting from the south, in Vigo, you can visit Mount Candeán and Casa dos Mouros (Moors' House) also called Dolmen Candeán. Nearby, in the municipality of Redondela, the mámoa (tumulus) or Silla do Rei (Chair of the King) is part of the necropolis of Mount Penide. The tumulus has a diameter of 15 meters and is 2,5 meters high.
Heading north, to Marín, you can visit Chan de Armada and Mámoa do Rei (King's tumulus), shared with the City Council of Vilaboa and located in Chan de Castiñeiras. Besides its preserved construction (rebuilt in 2001), it has some carvings on their stones.
To end this tour without leaving the areas near the coast, we find Chan de Arquiña in Moaña and Lapa de Gargantáns in Moraña. The first is a mámoa dating from 3,000 BC with a tumulus of 25 and 30 meters. Among the grave goods we find pottery, arrowheads, an ax and pieces of flint and quartz, among others. This mámoa was used for over a thousand years.
The Lapa de Gargantáns is a menhir 2 metres high, decorated with petroglyphs: bowls, horseshoes and snakes.
The route of the petroglyphs in Rías Baixas brings you closer to the inland valleys and to towns near the sea and the rivers. Stone carvings, characteristic of the Bronze Age in this area of the Peninsula, are especially abundant in Campo Lameiro and Cotobade.
Starting from the south you can get to know the archaeological ecological park of Mount Tetón (Tomiño), A Cabeciña area (Oia), Outeiro dos Lameiros (Marshes Hill) (Baiona), Outeiro (Hill) de Cribo (Meis), Ballotes (Vilagarcía de Arousa), Laxe das Ferraduras (Arched Stone Slab) and Lombo da Costa (Cotobade), Pedra do Cervo (Deer Stone) or Laxe das Cuñas (Ponte Caldelas) and Pedra da Serpe (Snake Stone) (Valga).
Among all these representations on stone it is worth to mention some that will be the delight of the visitors in Rías Baixas who want to learn about the history hidden in their valleys.
The archaeological area of Mogor, in the municipality of Marín, has a set of abstract carvings, mazes, cups and concentric circles divided into three outcrops. The interpretation center opened in 2015 and can be visited from Tuesday to Sunday.
Nearby, in Poio, the archaeological area of A Caeira has zoomorphic and geometric carvings dating from the same period as those of Campo Lameiro. The sloping terrain in A Caeira divides the carvings in two large stones: Pedra Grande (Large Stone) Montecelo and Laxe das Lebres (Hare Stone Slab).
Opened in 2007 and located further north, the archeological area of Tourón in Ponte Caldelas gathers the most unique set of carvings in Galicia. They also date from the end of the Neolithic period and have complex compositions such as Laxe das Cruces (Cross Stone Slab) or simple ones as Forcadela. There are bowls and circular and zoomorphic compositions. There is no entrance fee, except for the guided tours which will show you the life of a village during the Bronze Age.
Inland and in the valley of Lérez, in the 20-hectare rock art park of Campo Lameiro you can explore nature and enjoy art outdoors. With clearly signposted and visible stations, this park has a modern interpretation center integrated in the landscape, making this a didactic and accessible experience for visitors.