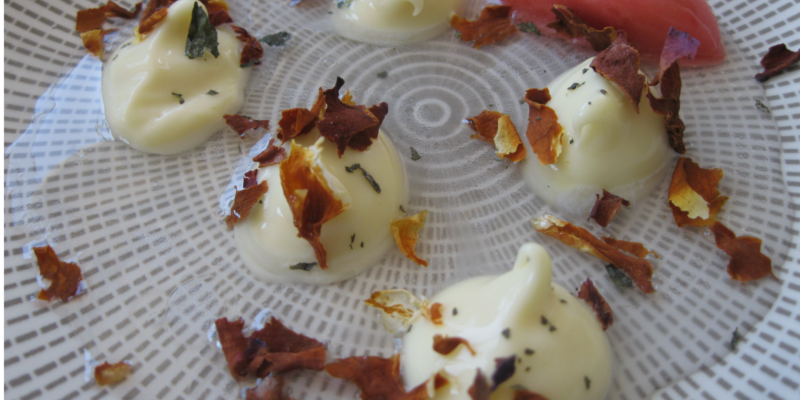 White chocolate ganache, camellia blend infusion, dry petals and green tea powder with syrup
Ingredients:
Petals of a white camellia flower
Petals of a red camellia flower
Syrup (250 mg sugar and 250 ml water)
200 ml cream
200 mg white chocolate
12 dry leaves of green tea
20 ml camellia oil
Ripe strawberry sorbet
Method:
First, keep the camellia petals at 70 ºC for 2 hours under dry conditions. Then, mix them with the camellia green tea leaves and bring the syrup to the boil, after that, remove from heat and infuse the leaves and petals with the syrup for 2 hours covered with aluminium foil.
Then, strain and emulsify the blending with camellia oil.
To prepare the ganache, melt the white chocolate and the cream in a bain-marie without bringing it to the boil. Once melted, whip it with a whisk. After that, keep it in the fridge for one night inside a pastry bag.
Presentation:
On a soup plate, distribute the ganache in small pieces, and a ripe strawberry sorbet quenelle. Add some dried camellia petals and a pinch of camellia green tea powder. Finally, add the oil-in-water emulsion of camellia syrup.