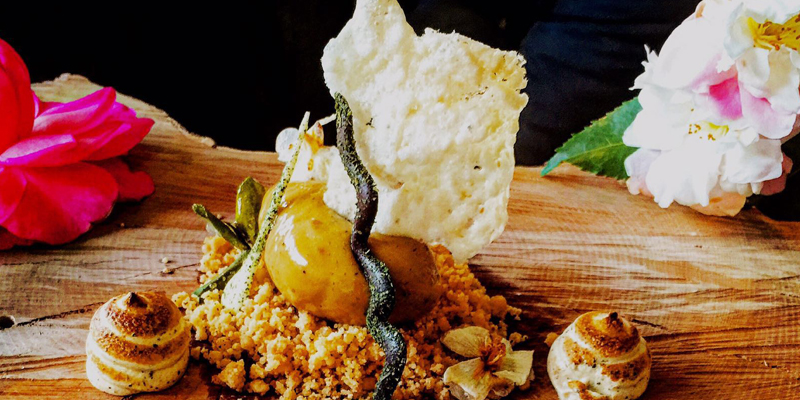 The camellia. Flavours, textures… combined with other touches
CRUMBLE OF 'PINK FRAGANCE' AND 'SASANCOA' CAMELLIAS AND HAZELNUTS
Hazelnuts: 100 g
Brown sugar: 100 g
Flour: 100 g
Softened butter: 50 g
Camellia oil: 50 g
'Pink Fragance' camellia flowers: 10 g
'Sasancoa' camellia flowers: 10 g
Infuse the camellia oil for three days and the 'Pink Fragance' and 'Sasancoa' flowers. Blend the oil and leave it to stand. Crush the hazelnuts and place them and the rest of the ingredients in the Kitchen Aid®. Hazelnuts should be incorporated gradually so as to obtain a heterogeneous mixture. Roll out on a Silpat® and place it in the oven at 180 ºC until dry and brown.
WHITE CHOCOLATE WITH PU-ERH TEA
Pu-erh tea: 6 g
Cream: 400 ml
Sugar: 10 g
Yolks: 160 g
White chocolate coating: 520 g
Gelatine leaves: 2 units
Blend the red tea and mix it with the warm cream. In another bowl whisk the yolks and the sugar, add the tea infusion and heat in the oven up to 85 ºC. Finally, add the gelatine leaves and coat in white chocolate. Strain through a sieve to remove excess tea and put aside.
CANDIES OF CAMELLIA SINENSIS BUDS AND CAMELLIA TRANSNOKOENSIS PETALS
Sugar: 100 g
Mineral water: 100 ml
Camellia sinensis buds
Camellia transnokoensis flowers
Prepare the syrup and add the flowers and the buds. Take out the ingredients carefully and place them on a parchment paper. Keep them in the oven for 2 days at 40ºC.
WHITE AND BLACK CHOCOLATE WITH GREEN TEA POWDER AND TONKA BEANS
White chocolate coating: 100 g
Black chocolate coating: 100 g
Green tea leaves: 25 g
Tonka beans: one
Blend the green tea leaves. Cool down the chocolate coatings and create different shapes on a parchment paper, dust the green tea and grate the Tonka beans using a Microplane.
GREEN TEA PUFFED RICE
Bomba rice (short grain rice): 100 g
Water: 500 ml
Sugar: 10 g
Green tea: 10 g
Camellia oil: 500 ml
Infuse the water and the green tea, add the rice and the sugar and boil all the ingredients. Then spread the mixture on parchment paper and keep it in the oven for 48 hours at 40ºC. Then fry the sheets of rice and the green tea in camellia oil.
GREEN TEA ITALIAN MERINGUE
Green tea: 10 g
Egg-whites: 90 g
Water: 90 ml
Sugar: 200 g
Infuse the water and the green tea, add the sugar and cook up to 121 ºC. In a separate bowl whisk the egg whites to stiff peaks and add the syrup gradually. Continue beating until the meringue is thick and glossy. It can be served cool, or it can be browned with a kitchen torch or dry.