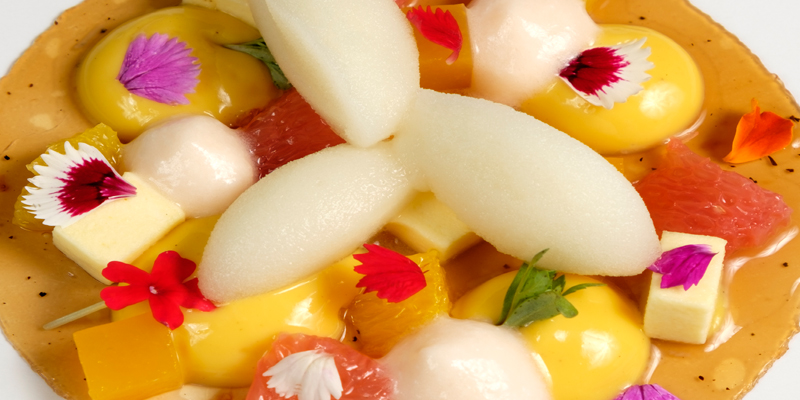 Camellia tea with citrus
Tea gelatine with Kappa (gelling agent), passion fruit crème caramel, tangerine, grapefruit, orange slices, egg in a cloud and lemon sorbet with limes, flowers, and tangerine buds.
Passion fruit crème caramel
250 g passion fruit purée
6 eggs
35 g sugar
Cook for 8 minutes at 85 ºC on speed 5 using a Thermomix ®. Use the turbo mode at maximum speed for 2 minutes, strain and let it cool.
The tangerine
A tangerine
Peel and divide in sections, cut into pieces. Put aside.
The grapefruit
200 g grapefruit juice
30 g Proespuma (stabilizer for foams)
Mix the grapefruit juice and the Proespuma and pour into a siphon bottle.
The tea
300 g water
3 g tea
30 g sugar
4 g Kappa (gelling agent)
A gelatine leaf
Boil the water and prepare a tea (with or without sugar), strain and use the Kappa and the gelatine leaf to form a gel, and then flatten on a board and cut forming rings of 12 cm in diameter.
Orange slices
200 g orange juice
50 g water
25 g sugar
15 g vegetable jelly
Bring the juice and the vegetable jelly to a boil and allow it to cool in a mould. Leave it to stand for 2 hours and cut in slices.
Cloud
125 g egg-white
10 g granulated sweetener
2 gelatine leaves
Boil the egg-white and the sweetener at 70 º C, add the gelatine previously hydrated and whip the egg whites to stiff peaks until cool, place in the fridge, cut in slices and keep it in the freezer.
Lemon sorbet
200 g sugarless lemon sorbet
Add:
Limes
Flowers
Tangerine buds
Arrangement and presentation:
Place the tea gelatine on a plate; arrange the rest of the ingredients, finally, add the ice cream, the flowers and the buds.