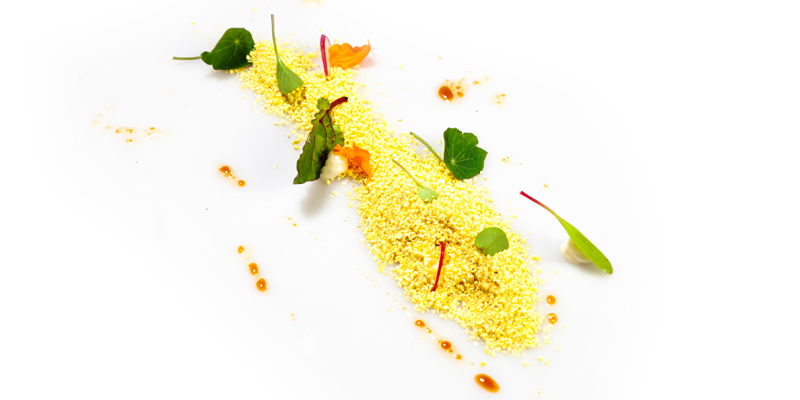 Cauliflower, curry and camellia and citrus vinaigrette dressing
Cauliflower purée covered with cauliflower-curry, leaves in season (camellia) and camellia oil vinaigrette and citrus peels with soy sauce
Ingredients:
A cauliflower
Butter (1tbs)
Curry (1tbs)
Leaves in season
Camellia oil (1tbs)
Soy sauce (1tbs)
Citrus peels (1tbs)
Salt (1tbs)
Method:
Shred one-half of the raw cauliflower and set aside. Boil the other half, drain it carefully and blend it with the butter (the cauliflower and half the butter) and salt to taste.
In a separate recipient infuse the camellia oil and the citrus peels, at 50 ºC for 2 hours, and strain to obtain oil for our soy vinaigrette (two parts of soy sauce and one part of oil).
Stir fry the shred raw cauliflower in a pan with a knob of butter and curry powder and salt to taste.
Plating:
Place the cauliflower purée on the dish, and cover with the cauliflower-curry, and carefully arrange the leaves in season (if the camellias are in bloom, some flowers can be added), and, to conclude, add the camellia and citrus vinaigrette.