A Guía (In the city of Vigo)
Observing the Ría de Vigo from A Guía Hill, in the high part of the parish of Teis, will be the perfect opportunity to discover a unique natural space with the sound of the sea in the background. Beaches as A Punta, Temoeiras and O Areíño, the cliffs between Punta Areíño and A Lagoa Beach, and the ship factory are some of the main attractions you can see.
In this natural space you will be amazed by the leafy woods and the amazing views over the Ría de Vigo and the Cíes Islands. In addition, this is a historical place, since the fishermen's wives used to go to this privileged location and light a fire to show them the way towards the port, their way home.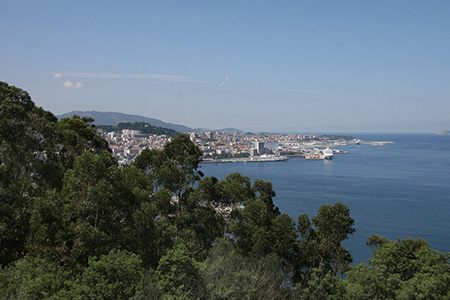 Fishermen's wives used to go there and light a fire to show their husbands the way home
The Chapel A Nosa Señora das Neves, built in 1950 by the architect Manuel Gómez Román on the ruins of an old hillfort, has long witnessed the privileged views of this viewpoint. Moreover, every 5th of August a feast to honour the Virgin is held in the surroundings, including open-air dances and religious services to show her their gratitude for protecting the fishermen while they are at sea.
A lighthouse to show the way towards the port of Vigo
A loyal companion while admiring the views of the Ría de Vigo is the lighthouse on A Guía Hill, a white cylindrical tower built in the early 20th century next to the original one, which was the second lighthouse built in Galicia, dating from 1844, just behind the emblematic tower Torre de Hércules, in A Coruña. As it is recorded in the book Faros de Galicia (Lighthouses in Galicia) by Jesús A. Sánchez, it was placed inside the inlet and not on the coast due to the pressure that two local shop owners put on authorities in 1842 to signal more clearly the port of Vigo.
You can round off the visit walking along the Sendero Azul, a six-kilometre circular route which starts by the sea and runs along the coast till A Guía Hill, being 128-metre-high. There, you can admire the views of the ría and the city and other elements with a high heritage value as rock carvings and old military facilities. A unique experience you should enjoy if you go to Vigo.