San Simón Island, Redondela
"Well, Professor Aronnax, we're actually in that Bay of Vigo, and all that's left is for you to probe the mysteries of the place." That is the way that Captain Nemo, aboard the Nautilus, made reference in Twenty Thousand Leagues Under the Sea to the legend of the wonderful treasures sank at the bottom of the estuary during the Battle of Vigo Bay. In this battle the Spanish-French fleet would be defeated by the English-Dutch fleet in October 1702.
Close to the San Simón Island, the sculpture of Nemo seems to float in the water, while the divers of the Nautilus, only visible with low tide, search the bottom of the sea and find the treasure. The troubadour Meendinho sang about San Simón. It is a spiritual place because of its religious and tragic past.
The island, inhabited by the Templars and later given to the bishopric of Tui by the Crown of Aragón, suffered attacks from British pirates five hundred years ago. In the 19th century it was turned into an isolation hospital where sailors that arrived to the inlet Ría de Vigo would spent some time before reaching solid ground in order to prevent outbreaks.
During the Civil War and in the first years of the post-war period it was turned into a jail for the Franquist Regime. Today, after a process of recovery at the beginning of this millennium, it has turned into a peaceful island.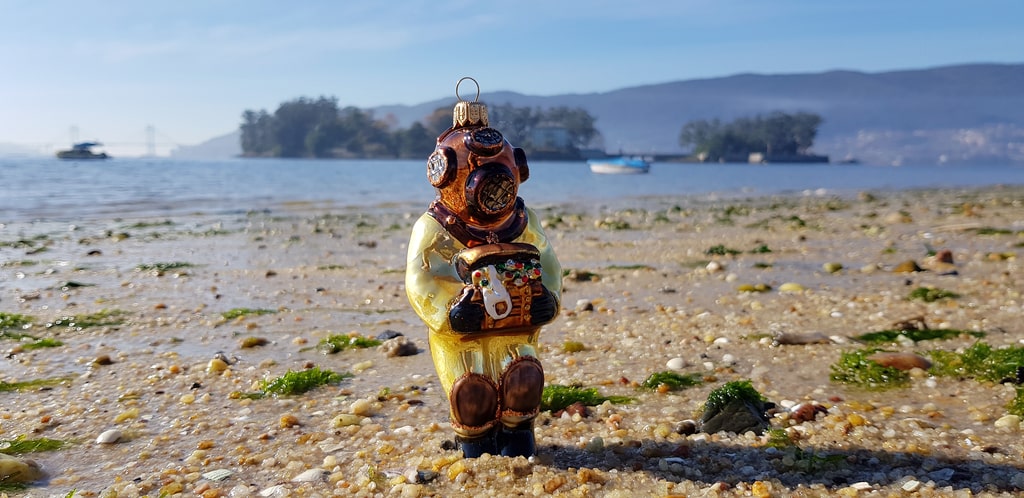 Diver, Max Glass-Kowalski Family Co. Poland