Aloia (In the town of Tui)
You will be amazed from the very first moment by the stunning beauty of this hill, almost 630 metres high. It is a 746-hectare natural space with paths and viewpoints where you can get immersed in the world of nature.
It was the first natural area in Galicia to be declared Natural Park, in 1979, and is the smallest one in the region. It is located in the southern part of O Galiñeiro Hills and enjoys a breathtaking panoramic view of the valleys of the rivers Miño and Louro. It reaches its highest point in the Alto de San Xiao, its main attraction, where there is a chapel dating back to 1713 built on a Romanesque temple.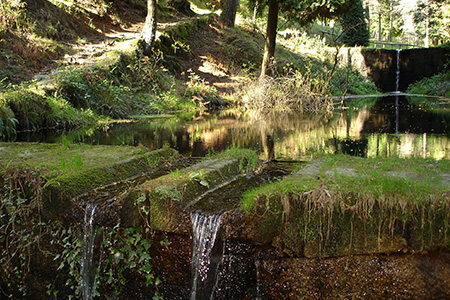 Hiking routes
To round off the experience, you can walk along the eight routes which include visits to the watermills of the area and the most important tree species growing in the region of O Baixo Miño and in the Aloia Hill. You can book in advance a guided tour through the park for groups (from 10 to 35 people).
There is a nature interpretation centre, in the old forest ranger's house where you can find varied information on this protected natural space. Free guided routes are also organised to get to know the wildlife of the area.