O Facho (In the town of Cangas)
Both this viewpoint and the hill where it is located were named after the guard post at the top, a small seventeenth-century circular stone construction. This vantage point, 184 metres high, enjoys outstanding panoramic views of the Cíes Islands and their cliffs and A Illa de Ons, especially at dusk. In addition, there you can find the remains of an old settlement and a pre-Roman temple.
The area you can admire from this setting in Cabo Home Cape is protected under the network Natura 2000. Moreover, it is likely to be part of the National Park of The Atlantic Islands, due to its great landscape and monument value.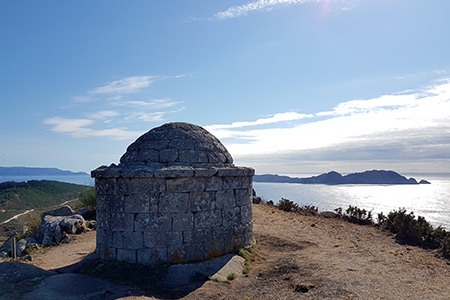 A place for worshiping the gods
From the 10th to the 7th century BC, this place is said to be used as a settlement, although there is little information about it, except for its size. Towards the end of that period a Celtic hillfort partly preserved today, was built there. You can find part of the wall, the moat and remains of about fifty circular houses.
Between the 2nd and the 4th centuries AD, this settlement was turned into a sanctuary to honour the god Borobreo, to whom pilgrims begged for help. This temple, known as Bero Breus, is presumably the oldest in Galicia. Its existence is known through some of the Latin inscriptions which are today kept in the Museum Quiñones de León, in Vigo.