Santa Trega (In the town of A Guarda)
If you are looking for an incredibly beautiful spot to admire in a 360 degrees angle the natural border between Galicia and Portugal, the best option is the viewpoint in Santa Trega, in A Guarda. It is 341 metres high, and from there you can see how the waters of the Miño River flow into the Atlantic Ocean while enjoying an environment with a rich heritage and one of the most beautiful sunsets in Galicia.
It is a strategic setting, having a privileged location at the border between Spain and Portugal, where different settlements were stablished along history. Some of them were even older than the popular Celtic hillfort castro de Santa Trega, as proven by the over two-thousand-year-old rock carvings discovered in the area and the archaeological pieces displayed in the Archaeological Museum.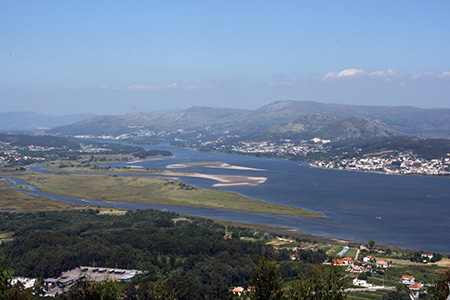 In Santa Trega you can find the remains of a Celtic-Roman hillfort with more than 42,500 pieces of incalculable value
This Celtic-Roman hillfort, which dates from the 4th BC to the 1st AD, is one of the largest Celtic settlements found in Galicia. It is a well-preserved space with circular, oval or square houses, and a wall, intended to establish the limits of the settlement rather than serving as a defensive construction.
A large number of valuable pieces were found there, as ceramics, of indigenous and Roman origin and also from the Beaker culture; glass objects; and bronze, silver and golden jewellery. The heritage value of the place greatly increased after the excavation the Deputación de Pontevedra carried out from 2015 to 2016, in which more than 42,500 pieces of incalculable historic value were discovered, as Roman amphorae and lamps.
Bids for the offerings to the Virgin, during the feast on her honour
There you can find a chapel of great heritage value dating back to the 12th century, the Santa Trega Church, devoted to the patron of the town. During the feast on her honour, known as Festa do Monte, held in the second week of August, the church is visited by a large number of parishioners to make their traditional offerings to the Virgin. On that date, families gather there to enjoy a picnic.