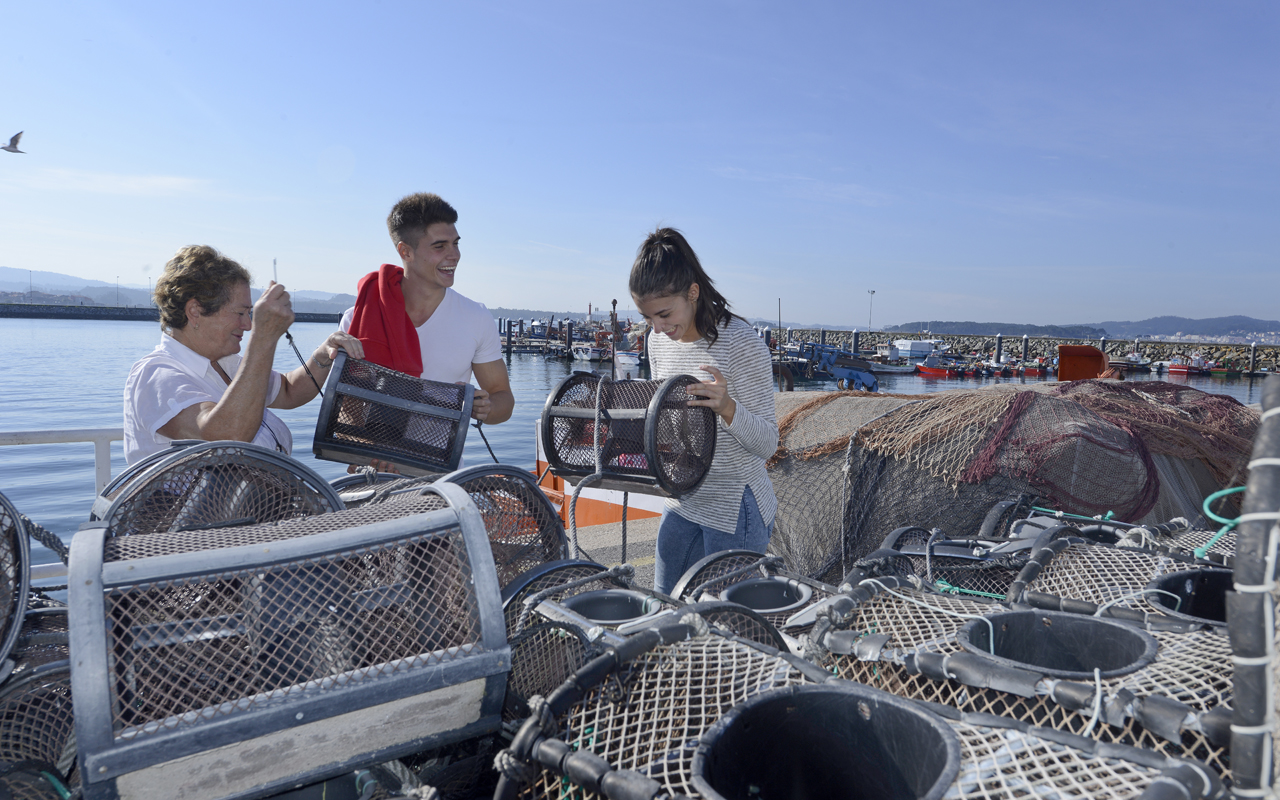 Cast your nets in Rías Baixas
The rías (a type of coastal inlet) of Arousa, Pontevedra and Vigo, well-known for the quantity and quality of their shellfish and fish, are a must destination if you like to taste such delicacies. But, apart from that, the possibility of enjoying the catch, selection and preparation procedures first hand will make the Rías Baixas, their sea and their beaches an incomparable setting.
---
Over time, their workshops and trips have grown and stood out because of their appeal and interest, just like the number of tourists enjoying this experience has grown too. Broadly speaking, tourists of this type are curious about the daily life of the places they visit, respectful with the peculiarities of their culture and interested in the origin of what is on the menus.
The day can be started very early by visiting the high sea fish markets, the ones with the large vessels bearing tonnes of catches and their hectic auctions where people bid out loud. You can also enjoy the relative peace and quiet of small fish markets in sea towns, surrounded by their own universe of workers and trades. It will be inevitable to browse around and pay a visit to the traditional boat building workshops or to the net warehouses, where people perform essential tasks, which cannot be done by machines.
Getting aboard and witnessing the mussel extraction on the bateas (small platforms where mussels are grown) may lead to a prize: this delicacy, simply steamed and with a little bit of lemon. Another part of the trip will be about getting to know how these wooden platforms work, placidly resting on the calm waters of the Rías Baixas. We want you to learn why Rías Baixas is one of the top mussel producers worldwide, and to know about its Mexillón de Galicia (Mussel of Galicia) mark of quality.
Shellfish gathering on the beaches is a characteristic image of the ría de Arousa. There, you can join professional shellfish gatherers on their working day and end your trip at the fish market to watch the auctions.
Around these trades the sea has created places, landscapes and its own culture, full of symbols and languages. Legends and history surround the lighthouses peppering the coastline, which remain as guardians for sea workers. There are natural spots and aquariums where you can see the native fauna of the rías and the marshes; there is also a place in Rías Baixas for museums dedicated to the sea, to fishing and to its evolution and impact; and tours on traditional vessels can be the ideal setting for tasting the dishes that are prepared with your catches at the workshops on offer.
A whole world devoted to the sea that is now at the disposal of anyone who wants to get to know it.
Aquariums:
Associations:
Visitor centre:
Traditional vessels:
Tourism companies:
Museums:
Tours: