Twenty-one events to enjoy this camellia season in As Rías Baixas
Exhibitions, international conferences, contests, tournaments… This winter brings several events in 2020 to be held in the province of Pontevedra with this flower as the main attraction
---
The camellia blooming season has just started and the gardens and parks of the province of Pontevedra are filled with this beautiful flower that once inspired mademoiselle Chanel and that has found in As Rías Baixas its second home. The calendar of the Spanish Camellia Society includes 21 events between January and April that you should not miss to admire the thousands of colourful varieties of camellia that bloom in this land.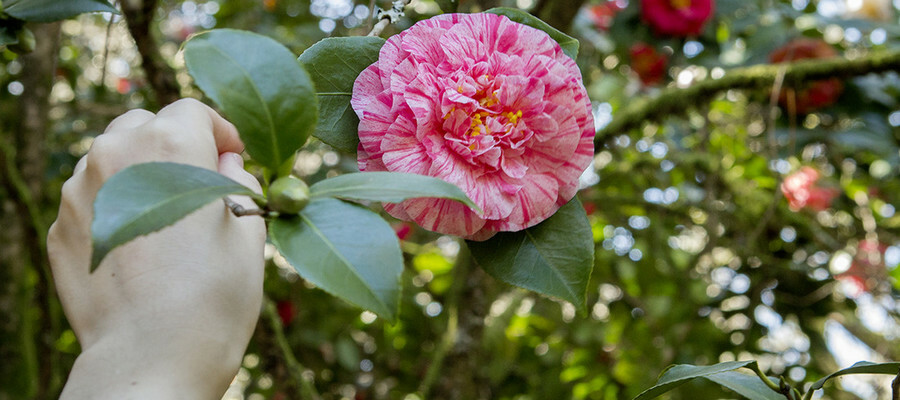 Exhibitions, contests, international conferences, memorials, galas and sports tournaments are about to take place in about twenty coastal and inland villages and towns. The first events will be held on the 18th and 19th of January in the regions of O Baixo Miño and O Salnés. On those days the V Mostra da Camelia Cidade de Tui (V Camellia Exhibition Cidade de Tui) and the second exhibition will take place in San Vicente do Mar, in the town of O grove.
The village of Moaña will be the next stop on the 25th and the 26th of January. ln February, however, there will be camellia events every weekend in different municipalities. On the 29th of February and on the 1st of March an important event will take place in the city of Vigo: the LVI Concurso Exposición Internacional da Camelia (56th International Camellia Contest-Exhibition). Moreover, at the end of the month another especial exhibition will be held, the IV Xornada Internacional da Camelia "Ven a comer a camelia" (IV International Camellia Conference 'Let's eat the camellia'), at the manor house Pazo Quinteiro da Cruz, in the municipality of Ribadumia, one of the 14 places that are part of the Route of the Camellia in the province of Pontevedra. There are up to seven events in March.
Other three camellia events will take place in April and the season will end with the III Mostra da Camelia de Lalín (III Camellia Exhibition of Lalín) on the 18th and the 19th of April. Please, check here all camellia events: