Soutomaior Castle moves towards excellence: betting on the Q for quality distinction and being proposed as a destination for scientific tourism
The Deputación de Pontevedra is working to achieve the famous European Observer seal due to its historical and botanical values
---
Soutomaior Castle moves towards excellence. This week the President of the Deputación de Pontevedra, Carmela Silva, supervised all the protective measures implemented during the reopening of the facilities in order to ensure visitors and staff safety and reliability. She went all over the facilities accompanied by the Deputy of Tourism, Ana Laura Iglesias, and, after the visit, she declared that the fortress of As Rías Baixas is a "safe destination". She also added that they are working to promote this destination internationally.

The President of the Deputación highlighted that "the efforts made regarding tourism quality will show results very soon". Carmela Silva confirmed that they are working so that the castle, which is already a SICTED destination, can obtain the Q for quality. Moreover, she also revealed that the fortress is moving towards achieving the famous Observer seal, the first European certification dedicated to promote scientific tourist spaces. Soutomaior Castle is betting on its historical and botanical values. This Wednesday 11th June, the technical staff of the programme will be assessing the premises.
It is important to point out that its garden is an International Garden of Excellence that has more than 15,700 m2 and 175 different tree species, some of which are more than eight hundred years old. Its collection of more than 300 camellia specimens stands out.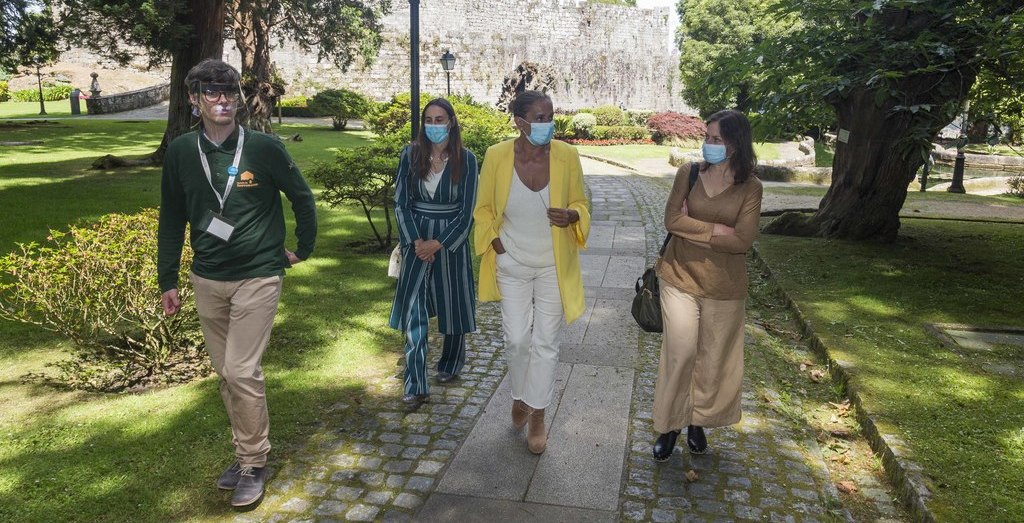 Changes during the visit
Regarding the safety measures taken in the premises, Carmela Silva examined the information point located at the main entrance to the castle, from which the technical staff explain the hygiene and social safety distancing measures that must be followed during the visit. In that very same space the temperature of all visitors will be measured. Visitors must wear masks and gloves too, since "it is an interactive museum space and all possible transmissions must be prevented".
Touchscreens are temporarily deactivated, especially those intended for children. Moreover, in order to minimise the risks, hydroalcoholic gel will be available at the entrance to the castle so visitors can sanitize their hands.
Visit tours will be as usual, with safety staff that will be in charge of showing the exit in order to avoid people walking close from each other.
The number of visitors will be strictly controlled by the safety staff and it will be limited to 50 %; approximately 160 visitors will be allowed inside the castle at the same time.
In addition to this, every fifteen minutes a message will remind visitors to keep a social safety distance of 2 metres.