Ten autumn landscapes in As Rías Baixas
A waterfall, five forests, two natural parks and two viewpoints to enjoy the colours of this season in the province of Pontevedra
---
The warm colours of autumn have arrived in As Rías Baixas, so it is the perfect time to visit its beautiful landscapes. Woodlands, natural parks, viewpoints and waterfalls throughout the province of Pontevedra are beautiful at this time of the year.
We invite you to enjoy the colours of autumn in these ten natural landscapes.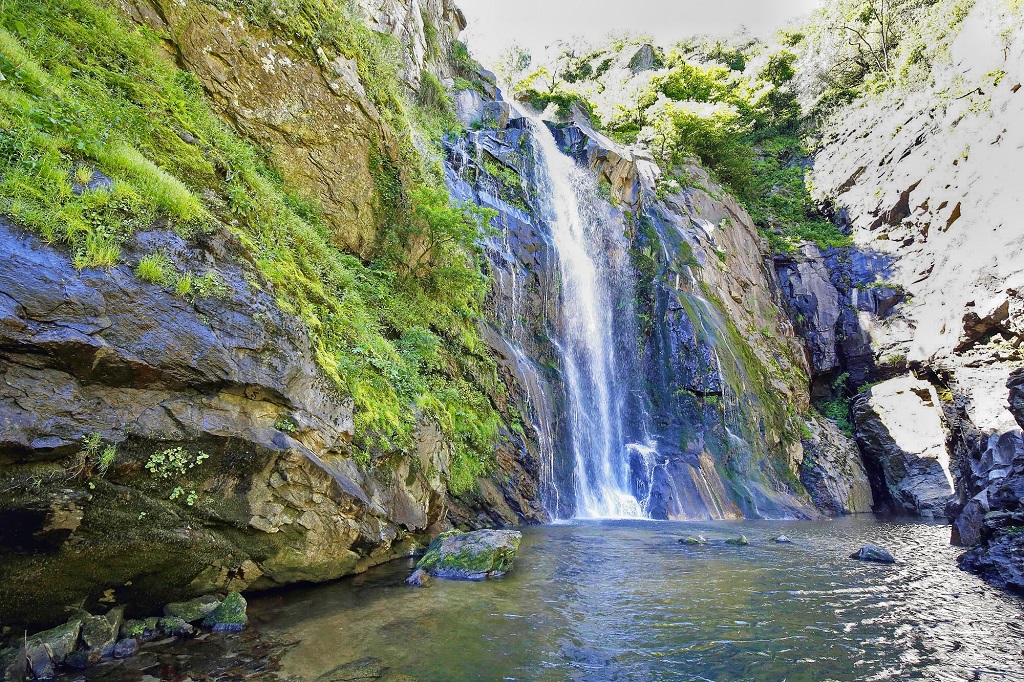 1. Waterfall of Toxa River (Silleda)
This 30-m-high waterfall is the largest one in Galicia, located in a wonderful natural setting. Toxa River rises in O Candán mountain range and flows through the region of Deza until it reaches the parish of Bandeira, in the village of Silleda.
This wonderful waterfall can be seen either from its top or from the foot of it. One of the jewels of Galician Romanesque architecture, the monastery of San Lorenzo de Carboeiro, in Silleda, is found nearby.
2. Fraga de Catasós (Lalín)
This beautiful oak and chestnut woodland is also known as Carballeira de Quiroga. Some of these trees can reach a height of 30 metres, being among the tallest in Europe, and, in some cases, a diameter of around 5 metres.
The path that connects this area to the Pazo de Quiroga (a traditional manor house) inspired writer Emilia Pardo Bazán to pen her novel Los pazos de Ulloa, and it can also inspire us when taking pictures of this beautiful natural environment.

3. Carballeira de Caldas de Reis
This oak grove was declared a site of cultural interest (BIC) due to the high quality and diversity of its tree species, many of which are hundreds of years old and were brought from all over the world. Located on the bank of Umia River, it is one of the most beautiful spots in the province of Pontevedra. Several species found in this forest are included in the Galician Catalogue of Singular Trees. Moreover, it also boasts a wide variety of camellias, the flower of As Rías Baixas.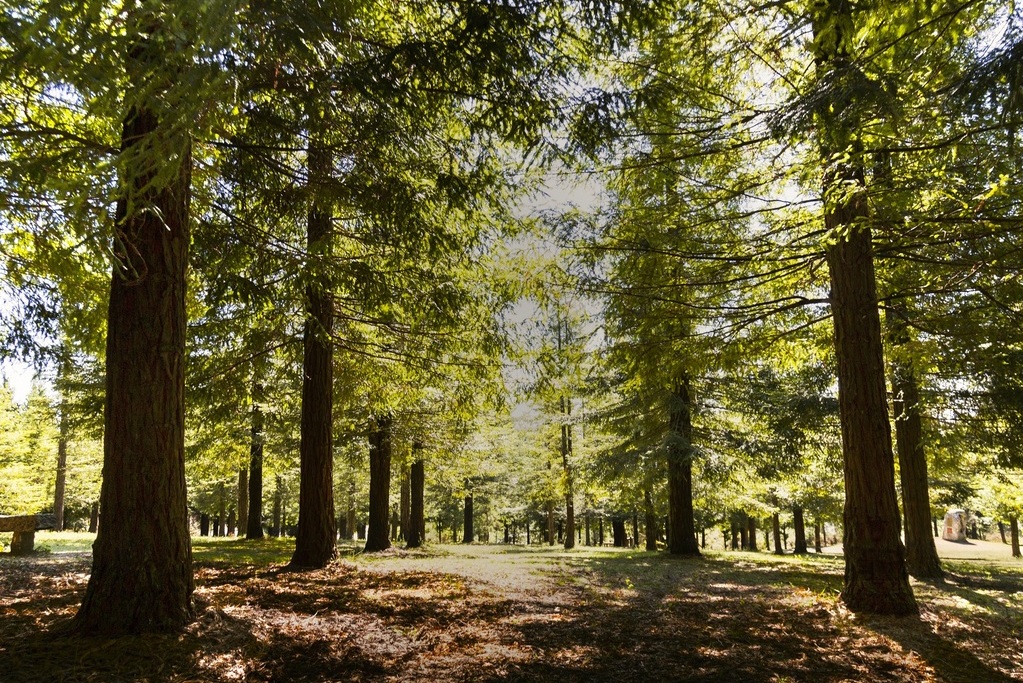 4. Redwood forest (Poio)
Also known as Columbus' forest, it is among the largest redwood forests in Europe. It dates back to 1992, when the United States gave the Spanish 500 redwood trees (Sequoia sempervirens) to commemorate the 500th anniversary of Columbus' arrival in America.
This brotherhood between the new and the old world resulted in over two hectares of redwood trees, planted in a beautiful natural area with fantastic views over the coastal inlet Ría de Pontevedra.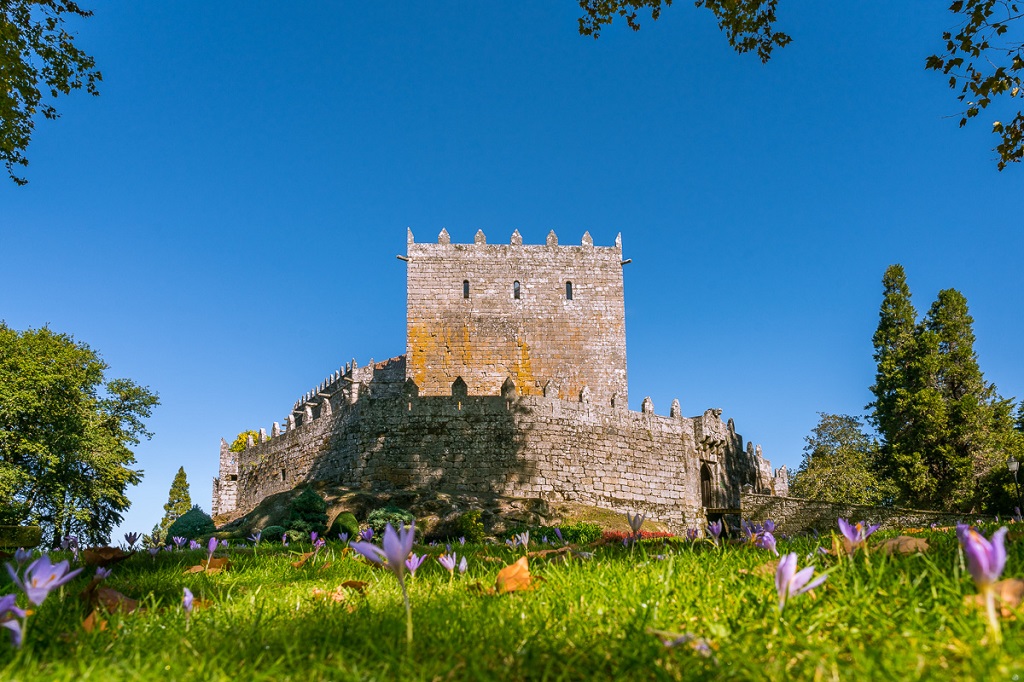 5. Soutomaior Castle
This outstanding architectural complex, half medieval fortress, half 19th-century neo-Gothic palace, is the gem of the castle heritage in the province of Pontevedra. In this idyllic environment, visitors can walk along three paths running through its gardens, vineyards and woods.
Wide and steep at the beginning, this beautiful path of the Soutomaior Castle's wood boasts a great variety of plant species and camellias. The chapel of San Caetano, a small stream and beautiful views are found along the way, as well as chestnut, oak, pine, eucalyptus, liquidambar, arbutus or laurel species; displaying a beautiful range of colours to enjoy in autumn.
6. Miño River meanders (Crecente)
From O Cruceiriño viewpoint, in the municipality of Crecente, in the region of A Paradanta, there is an excellent panoramic view of the valley and of Miño River meanders. In this environment, surrounded by rocky hills and eucalyptus forests, we can enjoy the colours of autumn in the province of Pontevedra.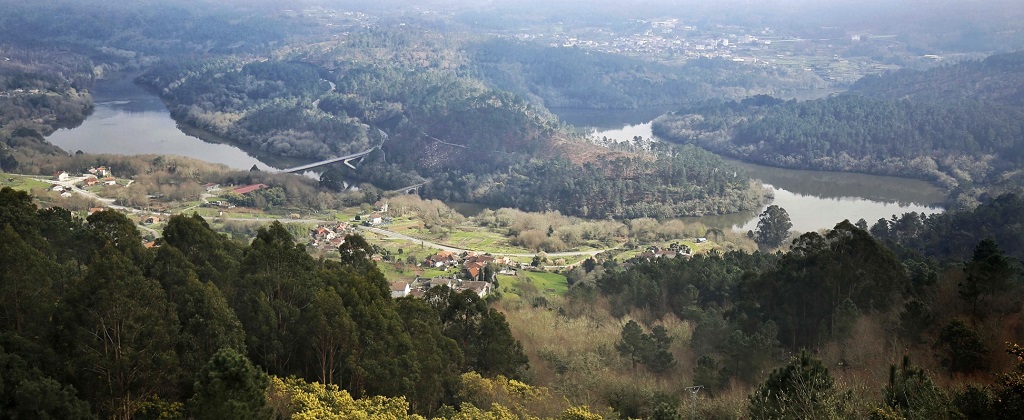 7. A Siradella (O Grove)
A Siradella hill is the highest point in O Grove Peninsula. It offers impressive views of unique places sucha as the Atlantic Islands, the towns of O Grove and Sanxenxo, A Lanzada Beach or the Intertidal Complex of Umia-O Grove, a nature reserve well known for its diverse and important flora and fauna, and where birds perform their amazing choreographies.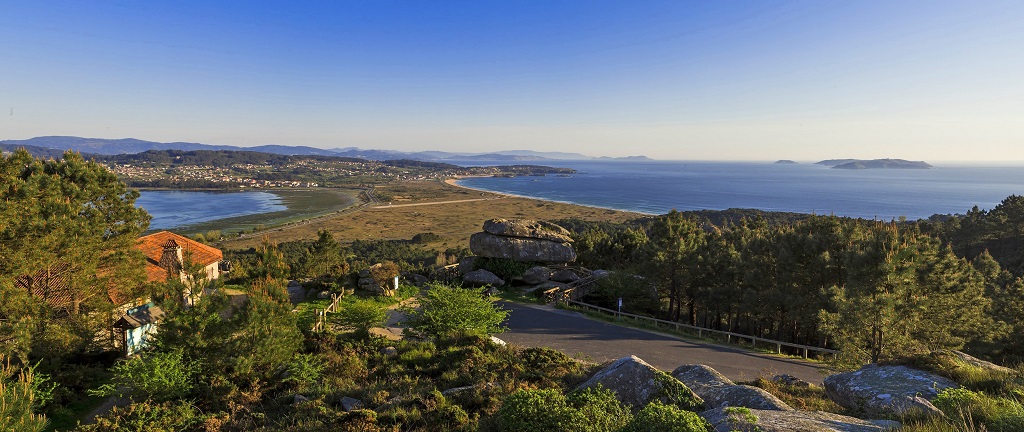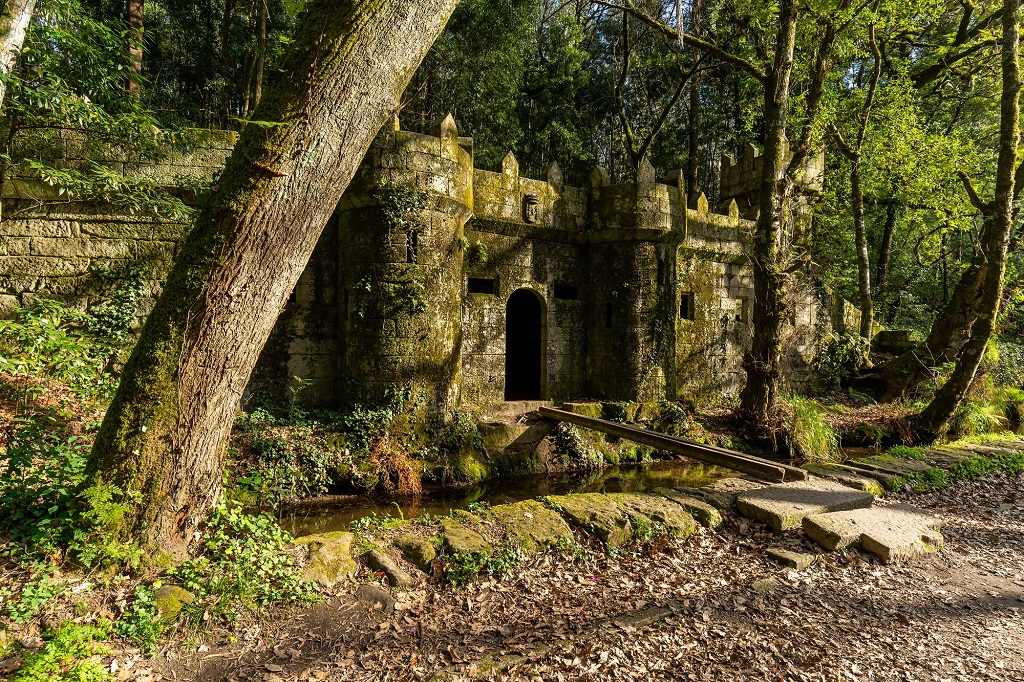 8. Bosque Encantado de Aldán (Cangas)
The Frendoal estate is home to a marvellous woodland with native trees and exotic species, introduced by the Counts of Canalejas, former owners of the estate. The beautiful paths that run through this natural space allow us to discover some hidden places, such a small castle, the Frendoal Castle, which remains unfinished. You would expecto to find this castle, together with its moat, drawbridge and aqueduct, known as Arco da Condesa (Arch of the Countess), in a fairy tale.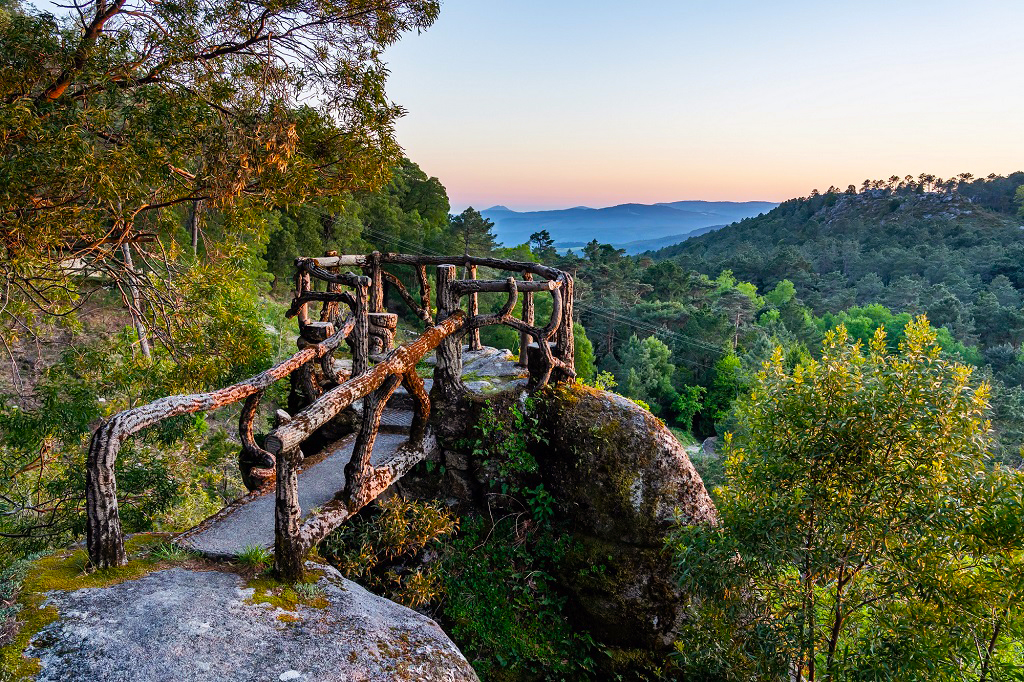 9. Aloia Mountain natural park (Tui)
Close to the town of Tui and as part of O Galiñeiro mountain range, we find this almost 631-metre-high stunning hill of a great landscape beauty. In 1978, it was declared a natural park, the first one in Galicia.
This natural park comprises a walled enclosure from de Gallaecian-Roman period and a small church dedicated to San Xián, which was rebuilt in 1713 on the grounds of a Romanesque temple. In this area there were several hiking routes and natural viewpoints.
10. O Carreirón natural park (Illa de Arousa)
This is a protection area for birds located in the southern part of the town of A Illa de Arousa. In this wonderful natural setting it is possible to take fantastic snapshots of birds flying. Moreover, it has a great diversity and richness of natural ecosystems: dunes, marshes, pine forests and an impressive underwater landscape. This is a perfect place to visit in summer and also suitable for those who want to enjoy the tranquillity of As Rías Baixas coast in autumn.