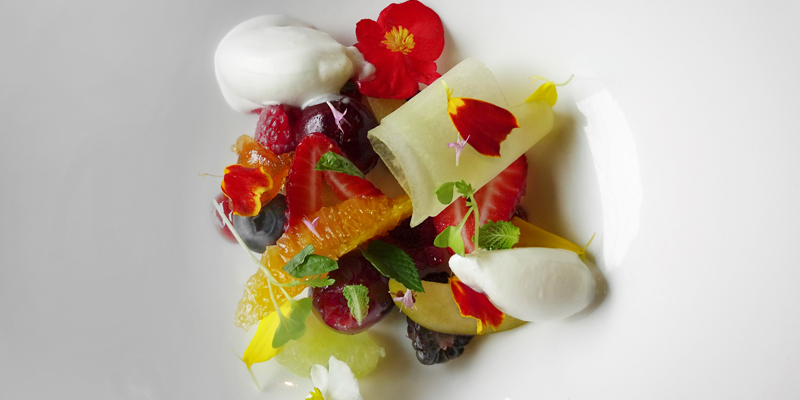 Ginger and camellia oil brined seasonal fruits with lime and camellia ice cream
Seasonal fruits:
Blackberries
Orange
Strawberries
Raspberries
Blueberries
Melon
Marinade:
Water
Apple cider vinegar
Allspice
Muscovado sugar
Aromatic herbs
Camellia oil
Ginger
Lime peel ice cream
Camellia tea:
Sugar
Water
Camellia tea
Cinnamon
Star anise
Peel of citrus fruits
Allspice
Pineapple
Method:
Peel and section the orange in segments and cut the rest of the fruits in even pieces. Mix all the ingredients necessary to prepare the marinade and leave the fruit inside the mixture for 5 minutes.
Prepare the syrup with the camellia tea and the aromatic herbs, then strain it and allow it to cool.
Presentation:
Place the camellia tea on the bottom of a soup plate and arrange the fruit in an original way.
Place a lime ice cream quenelle on one side of the plate.