Santa María da Armenteira, Meis
This is the history of a monastery full of legends.
Ero da Armenteira, a noble from the 12th century, asked the Virgin Mary for intercession to have offspring. She appeared to him in a dream and told him that he was going to have many spiritual children. So, Ero decided to found the Monastery of Santa María da Armenteira, of which he was abbot for 26 years.
The monk was curious about paradise. One day, in his old age he decided to go out for a walk through the forest. During his walk he was captivated by the signing of a bird and sat under a tree for a while to listen to it. When he went back to the monastery, thinking that it had only been a few hours, he found out, after talking to the monks, that it had been 300 years, and he died right there. The legend of Saint Ero is included in one of the cantigas (medieval poetic song) written by Alfonso X, the Wise.
The monastery was founded on the slope of Castrove Hill, at the heart of the region of O Salnés, and it is still standing nine centuries later. Its Galician Romano-Gothic church is a treasure from the 12th and 13th centuries. The cloister has six semicircular arches in each wing.
Cistercian life was restored in A Armenteira in 1989 with the arrival of a community of nuns from Navarra. There, they dedicate their lives to prayers and work, to run a hostelry and to sell handmade soaps made from natural products.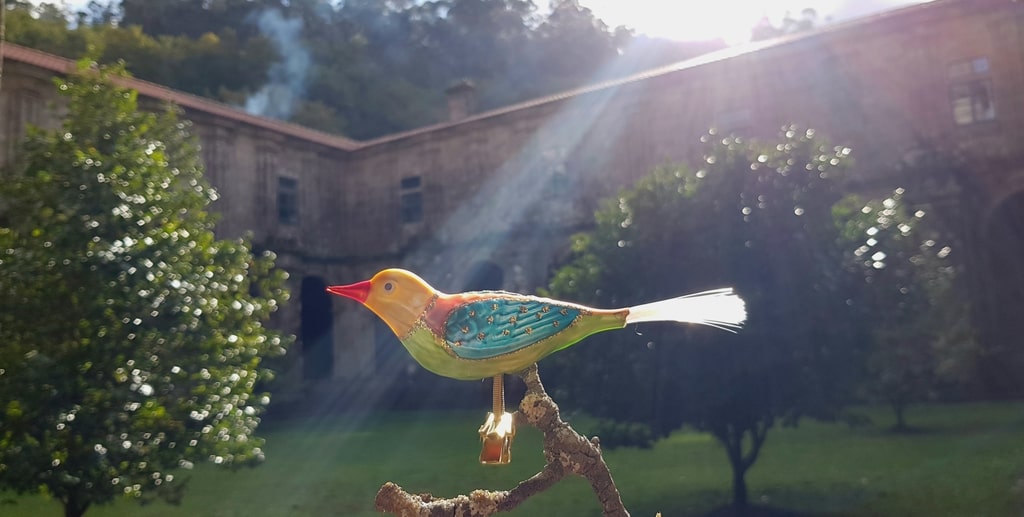 Pájaro, Guild of artisans of Lauscha, Germany