Belén Artesanal of Valga: a miniature world
Hundreds of hand-carved figures represent both traditional scenes and current affairs in this nativity scene
The Belén Artesanal en Movimiento of the village of Valga is a handcrafted nativity scene with moving figures that constitutes one of the most astonishing Christmas decorations in Galicia. Carried out since 1995, it is considered a Festivity of Tourist Interest for its originality, creativity and interest to preserve old traditions. It consists of more than 4,000 figures, all carved by hand, representing both typical Christmas scenes and current political and social events. It stands out from other scenes in the province of Pontevedra because it is a moving representation of a nativity scene and is located in a Galician town.

The members of the cultural association Amigos do Belén start working in September to get everything ready for the opening on the first Sunday of December. Figures and sceneries are made by the locals with paper, plaster, modelling clay, wire, wood, stone and different types of fabric.

The Belén of Valga covers 250 m², and to make it possible several water bombs, around 8,000 light bulbs and many small engines from disposed elements, like windscreen wipers and electric toothbrushes, are needed. Thanks to 30,000 m of wiring, the handcrafted figures are alive until the second week of January, attracting thousands of visitors every year.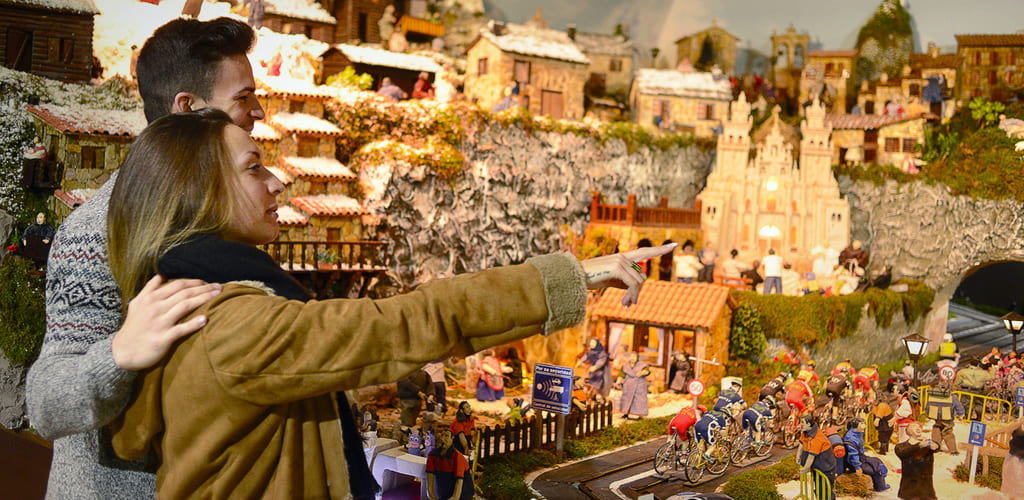 Tradition and celebrities
The nativity stage improves with every edition, mixing classic biblical motifs with references to current topics of local, national or international interest. Traditional scenes, such as the pig slaughtering and the grape harvesting, share space with distinguished Galician figures as Rosalía de Castro, Castelao or Camilo José Cela.

Of course, Valga's historical celebrities are also represented, like actress, dancer and courtesan La Belle Otero and researcher Xesús Ferro Couselo. Over the years, always following the current trends, the neighbours have added players from the Spanish football league, cyclists from La Vuelta de España and many personalities from the show business. They also have reflected the government changes in Madrid and the political tension in Catalonia.

The Belén Artesanal of Valga was the first Galician nativity scene declared of Tourist Interest and is one of the most important and anticipated events for the local population.
Recreating snowfalls and storms
The Belén Artesanal of Valga is one hundred percent handcrafted, but it also includes technology. Basic devices are used to move the famous figures, and light and sound effects are added using more advanced tools. Day phases and light changes, as well as meteorological effects like snowfalls and storms, are simulated with computer systems and accurate programming systems. Characters are constantly moving and it imitates day and night.

The Belén's Facebook page can testify the admiration it causes. Its followers highlight the composition's impressiveness and originality, encouraging Valga's neighbours to expand it every year.
When can it be visited?
The Belén of Valga is open to the public from the first Sunday of December to the second week of January. It can be visited from Monday to Friday, from 5:30 to 8:30 pm; Saturdays, from 5:00 to 8:30 pm and Sundays and festivities, from 12:00 to 2:00 p.m and from 5:30 to 8:30 pm.

Schools, associations and other groups can arrange visits through the phone number +34 630 952 515.