Step into the great religious monuments of the province of Pontevedra.
The landscape and history of the province of Pontevedra are filled with spirituality. The natural beauty of its forests, rivers, beaches and smooth coastline is combined with the mysticism of its magical and religious retreats, perfect places to get away from the hustle and bustle of the cities and to experience this amazing tourist destination. Its monasteries, churches and shrines are havens of peace set in idyllic coastal and inland landscapes.
The Cathedral of Santa María in Tui is the gem of a beautiful old town lying on the banks of the Miño River. Its façade was the first Gothic one in the Iberian Peninsula.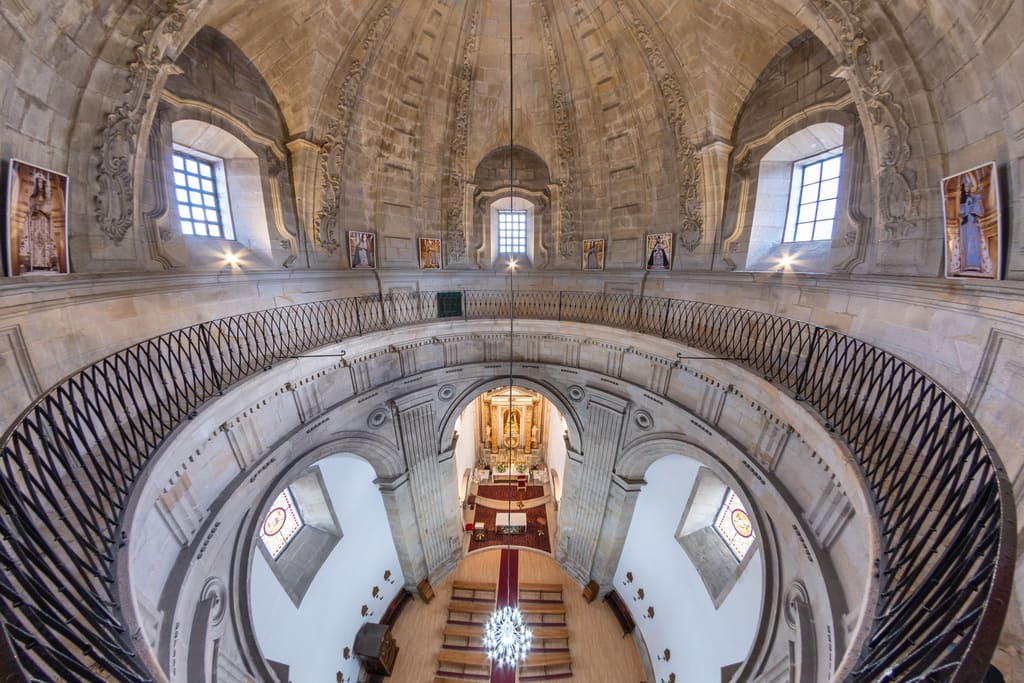 Interior of A Peregrina Church in Pontevedra
The urban landscape of the town of Pontevedra cannot be fully appreciated without the silhouette of A Peregrina, a church with a characteristic scallop shell shape, and a must stop for pilgrims on the Way of Saint James. Also in the town of Pontevedra, you can find one of the masterpieces of the Galician Gothic architecture, the majestic Basilica of Santa María A Maior. Its façade was conceived as a great stone altarpiece.
Located near the famous Portuguese Way is the church of San Martiño de Agudelo, in Barro. The original temple, built in the 12th century, still preserves the apse and the western façade. On the same route to Santiago de Compostela, in the town of Caldas de Reis, is the church of Santa Mariña de Carracedo, featuring a large baroque tower.
The Co-Cathedral, located in the old town of Vigo, and popularly known as A Colegiata, houses the most important religious symbol of Vigo, the image of the Cristo da Victoria.
Heading south, in the seaside town of Panxón, in Nigrán, you can find a magnificent temple designed by the famous architect Antonio Palacios. The Templo Votivo del Mar, built between 1932 and 1937 to honour the Lady of Mount Carmel, combines varied and different styles.In the town of Baiona is the chapel of Santa Liberata, dedicated to the martyr and "adopted daughter of the town" and the first woman to be crucified in the world (in the year 139). The construction of this religious temple began in 1695 by public subscription.
The province of Pontevedra boasts magnificent religious buildings surrounded by nature. The majestic neoclassical church of Santa María de Abades was built in Silleda in the 18th century. It is a great architectonic work, of which the dome and the tower, the highest in the region, stand out.
The majestic monasteries are filled with a calm atmosphere. These monuments in stone, immersed in woodlands, prairies or on the seaside, can be the starting or ending point of a route through their surrounding landscape.