Cambados pays homage to the king of the ría
The Festa da Vieira pays tribute to this delicacy, which can be perfectly paired with Albariño white wine
The paradise of the scallop is located in Cambados. This village in Pontevedra, recognized in 2017 as the European Wine City, honours every year this valued bivalve in a festival which was declared Festival of Tourist Interest in Galicia in 2013. Local bars and restaurants, together with renowned chefs, participate in a celebration where food tasting is combined with a range of attractive activities
This celebration is held at the weekend which is closer to the feast in honour of the Virxe do Carme (Our Lady of Mount Carmel). Thousands of people gather every year in the pedestrian street A Calzada to taste the delicious scallops caught by the shellfish harvesters from Cambados. This festival, which was born in 2002, is today a must-visit and is considered the prelude to the Festa do Albariño (the Albariño wine fair) in early August. This variety of wine, originated in Cambados, is well-known worldwide and it forms with scallops a perfect match.
Different dishes
During these days, different scallop dishes can be tasted: natural scallops, scallops empanada (a kind of savoury pastry) or scallops with albariño wine, among other dishes. Bars and restaurants also participate in this event and they organise free tastings with original tapas prepared by them.
In addition, renowned Michelin-starred chefs offer food workshops, held in the marquee located in the pedestrian street A Calzada. In previous years, Yayo Daporta, Xosé Torres Cannas, Pepe Solla or Rafa Centeno gave these workshops. These chefs will show visitors the endless possibilities to turn a scallop dish into a delight for the senses.
The Scallop Fair was first celebrated in 2002, after the coalition of the fishermen's association Confraría de Pescadores Santo Antonio and the local government. At that time, the sector was about to disappear, as scallop harvesting had been prohibited for more than a decade due to a toxin.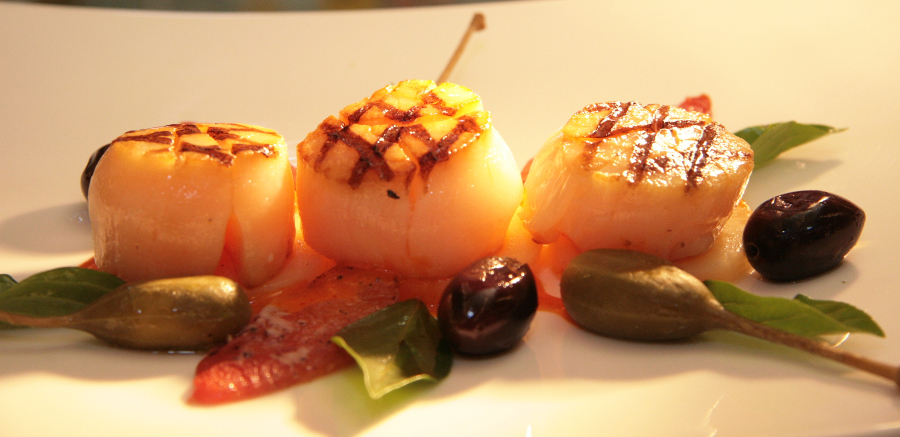 The Galician scallop belongs to the species Pecten maximus, which grows in the Atlantic Ocean until 100 metres depth, in clean waters with high salinity levels. The mollusc hides under sandy seabeds and uses its powerful muscles to move its valves, jumping long distances. They reach a marketable size in four years, and the largest specimens are about 15 centimetres long.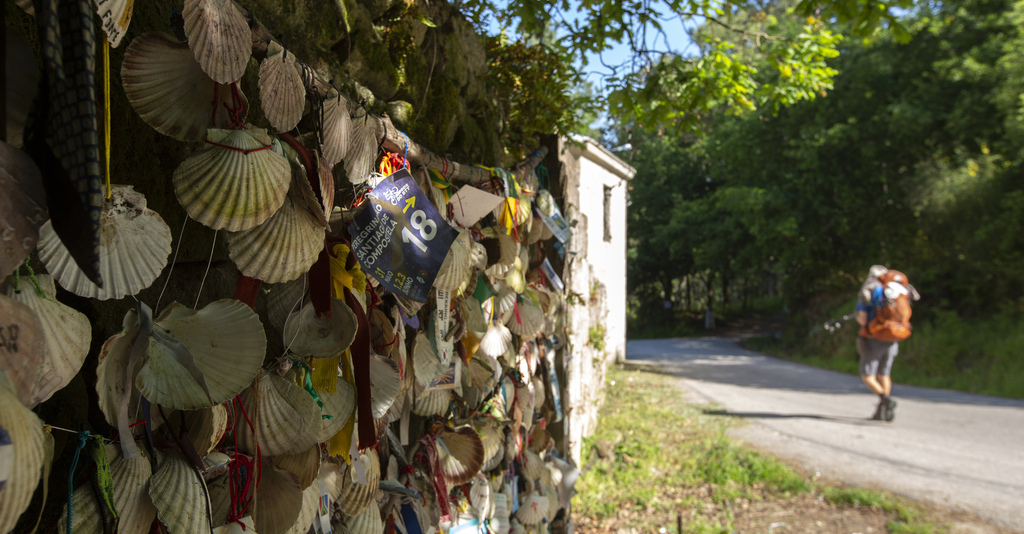 Symbol of the pilgrimage to Santiago de Compostela
The scallop shell is a symbol of the pilgrimage to Santiago de Compostela. There are several theories about the origin of this custom. One of them, the most widely accepted, is related to the pilgrims in the Medieval Ages, who wore a characteristic attire in their way back home: a pilgrim's staff, a pumpkin, a cloak, a hat and a scallop shell. The latter was given as a prize after reaching the Cathedral of Santiago de Compostela. Moreover, it was considered solid proof of having completed the Jacobean route, as these shells could only be sold in Santiago de Compostela. Those who sold these pieces in other towns or villages could be excommunicated.
The Codex Calixtinus also registers the meaning of these shells as well the fact that pilgrims often wore a scallop shell attached to their cloaks as a sing to honour the Apostle.