The past and the present dance in Aldán
Galáns and madamas wearing colourful hats and costumes dance to the sound of Galician bagpipes and tabors
Ancestral, traditional and unique, the Dances of San Sebastián in Aldán return to this parish in Cangas every 20th January. On that date, the festivity in honour of the saint is celebrated in this village, where this colourful dance catches everyone's attention.
This dance has been declared a Festival of Tourist Interest in Galicia. The lack of specific documentary sources makes it impossible to determine its exact origin, but there is evidence that this tradition dates back to the middle of the 17th century.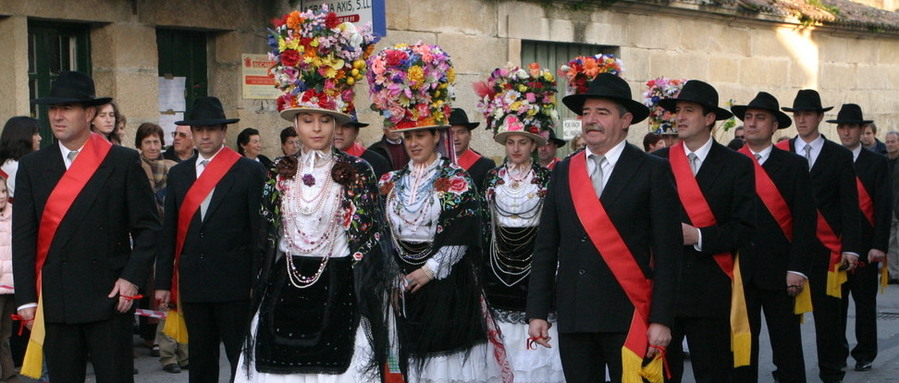 Madamas and galáns dance in the atrium of the church of Aldán
At present, this dance is a show that begins in the atrium of the Church of San Cibrán. In that setting, a total of ten galáns (male dancers), five damas (female dancers) and a guide await the moment when the procession starts off. After the appropriate bow before the saint, the group leads the retinue with the peculiarity that the dancers never turn their backs on it. And then, the contradanza (a type of contredanse) begins.
As part of the ritual, the dancers must bend over three times in front of the image as they approach it, and another three times as they go back to their original position. Through the entire ritual, the guide is in charge of directing the group's movements, executed to the sound of the bagpipe, the tabor and the castanets.
Piece of flower art
The dancers' attire is unique. Handkerchiefs of colours, a black apron, a white dress and a Manila shawl make up the women's outfit, whereas the men dance wearing black shoes, a black suit and a felt hat. One of the most outstanding ornamental elements is the hat, made with flowers and ribbons, worn by the damas.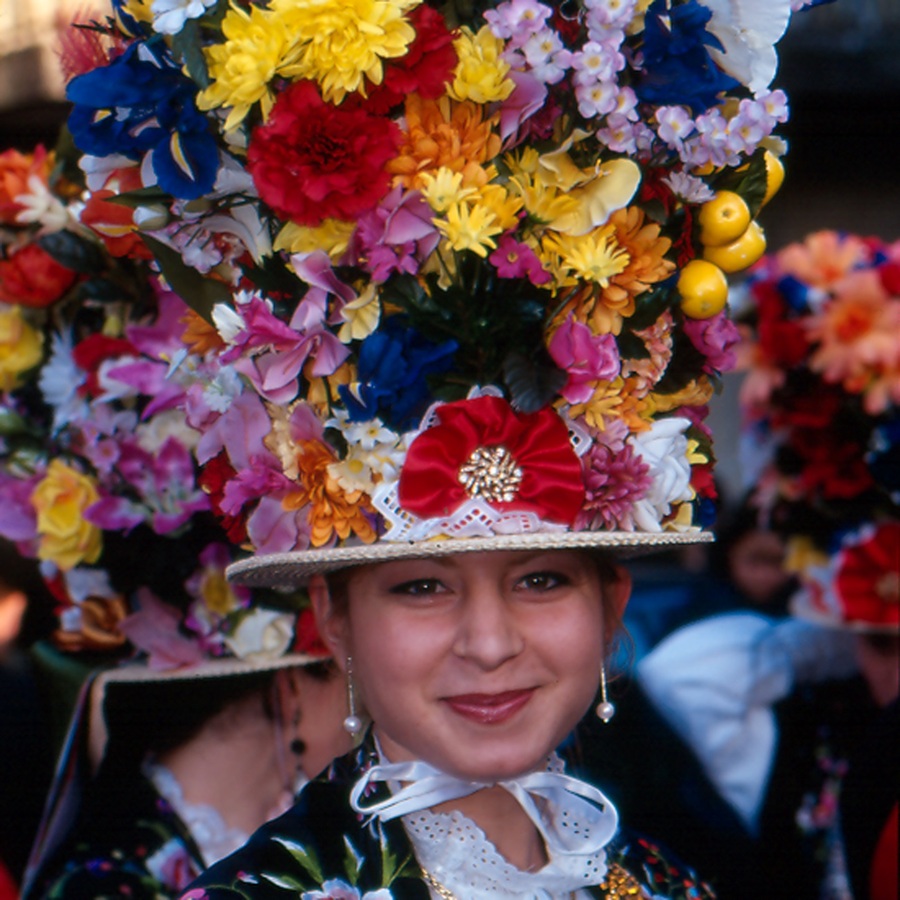 But this is not the only village that sets the pace: other dances stand out within the municipality of Cangas (in the region of O Morrazo), such as the ones performed in the parishes of O Hío and Darbo, in honour of San Roque and Santa María, respectively, both of them part of the Ancestral Dances of Cangas.