A Reconquista of Vigo: from the battle to the festival
This historic re-enactment takes the streets of the "faithful, loyal and brave" old town of Vigo
Fishermen and fisherwomen, farmers, artisans, soldiers and other important historic figures walk around the old town of Vigo during the first weekend after 28 March. The city immerses itself in A Reconquista (The Reconquest), a Festival of Tourist Interest in Galicia that commemorates the expulsion of the French army at the hands of the people of Vigo two centuries ago.
Vigo goes back to March 1809 during the first weekend of A Reconquista but the armed siege of those days is a mass festival today. The old town of Vigo, which, after the heroic deed was granted the title of "Faithful, Loyal and Brave", became a huge outdoor market visited by hundreds of people in period costumes. The atmosphere is imbued with the spirit of that feat while thousands of people have a good time at street stalls, bars, restaurants, taperías (tapas bars) and at tables outside bars and cafes.
The historical re-enactment of the revolt takes place in different spaces of the old town until Napoleon's army is expelled, and they have to flee by boat chased by the people of Vigo
A Reconquista is a chapter that left deep scars in the identity of Vigo and the festival, promoted by the Asociación de Veciños do Casco Vello (Residents' Association of the Old Town), was born just two decades ago. Over these years, it has become a must-see event in the calendar thanks to the involvement of the whole neighbourhood, to the massive participation in the re-enactment of historical events and to the lively atmosphere in the old town.
The festival re-enacts the expulsion of Napoleon's army during the Spanish War of Independence. The French soldiers had taken the square on 21 January, and it was left under the control of Commander Chalot. Soon after, this action ignited the spirit of A Reconquista in Vigo and only 57 days later, after a massive mobilisation by the people of Vigo, the siege of the fortified city came to an end. Important figures such as Cachamuíña, Carolo, Aurora, Vázquez Varela (the mayor at that time) or Captain Almeida are very fondly remembered by the people of Vigo; they do the utmost at this celebration to commemorate that victory.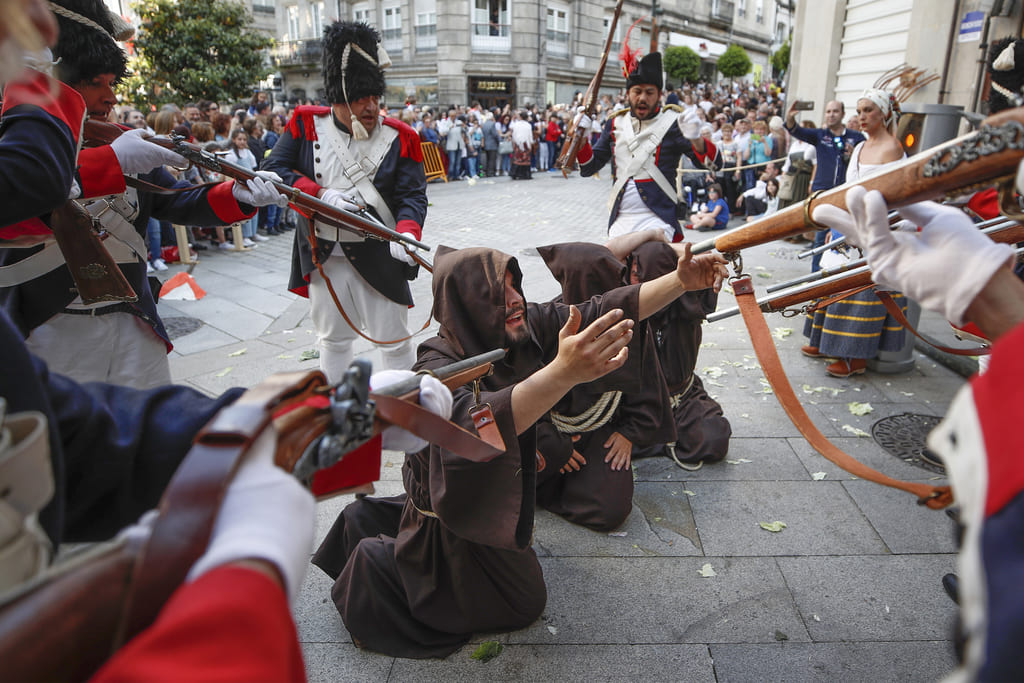 The historical re-enactment starts with the ousting of the Municipal Council in O Berbés Square and it ends on Sunday with a performance in A Porta do Sol Square, a real show in motion from the beginning, at the gate of A Gamboa, to the definitive expulsion of the French army, at the Nautical Club.
The celebrations go on over the following weekend with the Festival of A Brincadeira in Bouzas, which also has a market and live demonstrations of artisans in the city. Bouzas was independent from Vigo at that time and it played an important role in expelling Napoleon's army.