Christmas in As Rías Baixas
The province of Pontevedra gets decked out to live an unforgettable holiday season. Decorations, lights, nativity scenes, markets and all kinds of activities will take place in all the municipalities of the province of Pontevedra until 6th January, Epiphany Day. Check out our guide to make the most of this Christmas season
As Rías Biaxas are getting clad in Christmas decorations. Come and experience a memorable holiday season in the province of Pontevedra, where you will find spectacular Christmas lights that have sparked international interest, streets and squares decorated with beautiful motifs, and endless activities for people of all ages, as well as articulated, miniature, and living nativity scenes. Get ready to enjoy your best Christmas in As Rías Baixas.

Vigo kicked off the holiday season on 23rd November with its Christmas lights and decorations, which are attracting tens of thousands of people and have become a benchmark in Spain. The city of Pontevedra will turn on its lights on 5th December with a great party in A Ferrería Square, adorned with a 30-metre tall tree, the biggest out of four.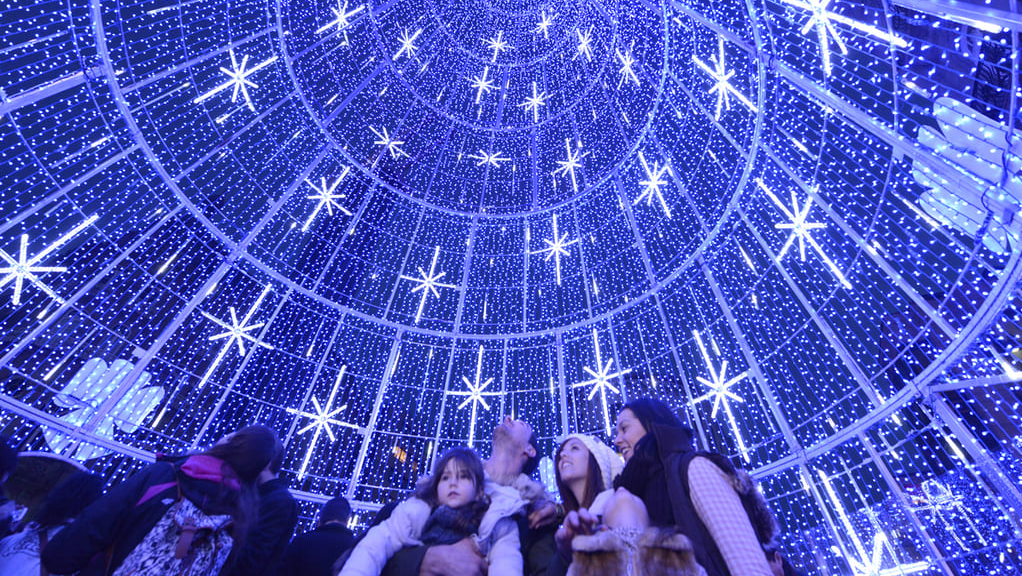 One month and a half of family fun and activities lie ahead. Among them, the opening to the public of the artisanal moving nativity scene of Valga, on 1st December, is one of the main highlights. This event has been declared as a Festival of Tourist Interest of Galicia.

Giant slides on the street, ice rinks, traditional markets and musical performances will take place in the centre of the towns of the province until Epiphany Day. Take note, because the number of activities keeps growing!
The whole province will light up
On Thursday, 28th November, Sanxenxo lights will be switched on. The next day, it will be the turn of the municipalities of Caldas de Reis and Soutomaior, both of which are pending on the weather forecast. The municipality of Gondomar will turn on the switch on Saturday, 30th November, the same date chosen by Ribadumia and by Ponte Caldelas, where petroglyph-shaped lights have already been set up.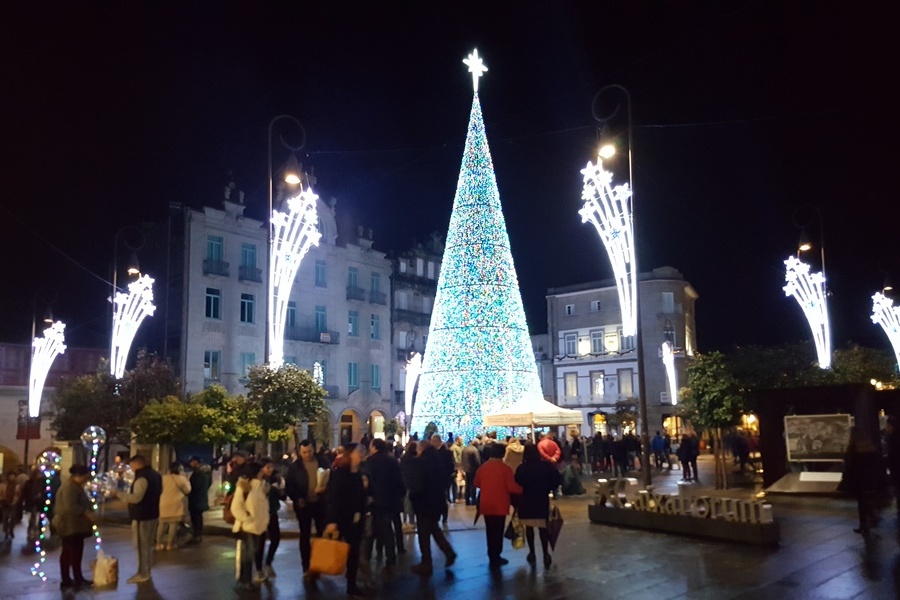 Tui wants this year a sustainable Christmas. His decoration is created with ecological and reusable materials. The christmas lights starts on 1 December to the 19:30 hours with the performance of the Rondalla of Pexegueiro.
On Sunday, 1st December, the municipality of Valga will light up its Christmas and open its artisanal moving nativity scene; the very same day, festivities will also come to Vilagarcía de Arousa town centre.

Pontevedra will have to wait until the 5th December to celebrate the lighting in A Ferrería. Marín will do it on the same day at 6.30 pm in the Alameda public park. The Christmas tree will be located in Eguren Park and the Alameda will feature a huge present box that people can go in and a carousel. After this first event, Marín's traditional nativity scene, which can be found in A Capirota Square, will be unveiled with the carols of Máis Cantos.

A handful of municipalities in Pontevedra, including Poio, Cambados, O Grove, Meis, Cuntis, and Moraña, will also join the Christmas festivities on Thursday, 5th December.

Exceptional nativity scenes
- Valga. On 1st December, the town's artisanal moving nativity scene, the most famous nativity scene in the Province of Pontevedra ever since it was first set up in 1995, will be open to the public. Declared as a Festival of Tourist Interest of Galicia, it is made up of more than 4,000 hand-crafted figurines representing traditional Christmas scenes and current events.

- Vigo. The Monumental Nativity Scene of Vigo can be visited since the last week of November in Casa das Artes. It covers 120 m2 and consists of 200 clay figurines modelled by the sculptor José Luis Mayo Lebrija, from the nativity scene association Agrupación Belenista La Morana, from Zamora.
Traditional markets
- Vigo. One of the main novelties in Vigo's Christmas celebrations this year is the traditional market set up in the Alameda park comprised of 58 handicrafts, food and hospitality brands stands. It will also feature a LED lights tunnel and 50 artificial snow cannons that will work every hour. This new attraction joins the two markets from previous years, which can be found in Londres Street, behind the MARCO Museum, and on the pedestrian area of O Calvario.
-With the intention to promote proximity commerce, Tui will organise this year a typically christmas market. It will open from the Thursday 5 to the Sunday 8 December in the Corredoira Walk. It will have 40 wooden places with illumination and natural decoration.
- Gondomar. This municipality, famous for its rosquillas (ring-shaped pastries), will also host a Christmas market this year in A Paradela Square. It is expected to feature 20 wooden stalls selling typical Christmas products.

- Vilagarcía de Arousa. The capital city of the coastal inlet Ría de Arousa will also join the traditional Christmas market trend this year. This municipality in the region of O Salnés will host a local merchants and artisans market that will be open to the public from 20th December to 5th January so that people can do their Christmas shopping.
Ice rinks and giant slides
- Pontevedra. The capital city of province will set up again a giant slide in España Square and there will be activities for children every day at the Alameda gardens. One more year, the exhibition centre will host the Mundo Nadal Fair, from 20th December to 7th January, a leisure and cultural event in which children and adults will have the chance to skate on an ice rink, open from 4.30 pm to 10.30 pm.

- Vigo. The Christmas train Tren do Nadal has already been set up in O Progreso Street. This year it is decorated with figures shaped as Christmas cookies and it will work from 5.oo pm to 9.30 from Monday to Friday and from noon to 2.30 pm and 4.30 pm to 10 pm on Saturdays, Sundays and public holidays. The Náutico area will have, once again, an ice rink and a snow slope for the most adventurous visitors. The area of Samil will set up another ice rink and a kart circuit. The special Christmas bus NadalBus will run five different routes through the city, with six trips departing from Policarpo Sanz Street from Monday to Friday, starting at 6.30 pm. At the weekends and on public holidays, the number of trips will go up to eight to cover the demand.

- Sanxenxo. The epicentre of the children's activities will be the tent located in Os Barcos Square. It will be open from 21st December to 6th January and will host music bands performances, workshops, storytellers, bouncy castles, games and a family-friendly cinema.

- Marín. During the holidays, the Town Council will set up two tents where daily activities will take place. The one from Eguren Park will be for teenagers while the one located in the Alameda park will be aimed at younger children.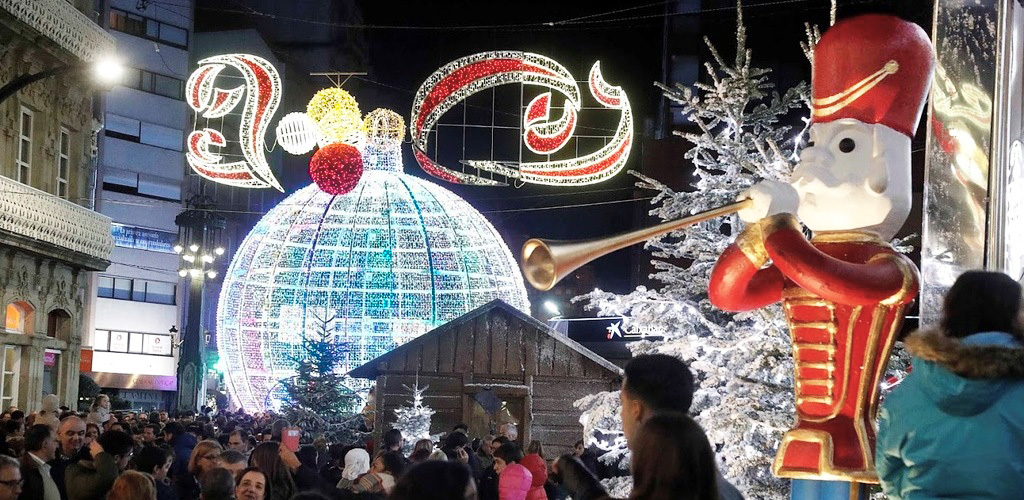 Christimas decorations in Urzáiz, Vigo.