Passion for mountain biking
O Cando Hill and the region of O Salnés are the main destinations for biking
If you want to make the most of your experience, the bicycle is an excellent option to get to know the coast and the inland part of the province of Pontevedra. You can choose from many of the existing routes in As Rías Baixas. You can adapt your trip to the level of difficulty that best suits you and divide it into stages if you plan to extend your visit to this natural paradise.
The O Cando is a gentle hill that runs from north to south of the centre of Galicia. In the province of Pontevedra, it offers four routes you can choose from: Carballedo and Tenorio, of medium difficulty; and Viascón and Caroi, for the most experienced riders.
O Salnés is another area with a long tradition of mountain biking, and Meis is the hub of this activity. The best thing about this sport is that will allow you to exercise your body while enjoying the interesting natural, ethnographic or historical heritage of the province. You can choose from a large number of options, depending on the time available and your preferences.
Low difficulty trails are A Escusa (6.8 km), the Ruta dos Muíños da Armenteira (8.2 km) and the Ruta dos Outeiros de Silván (6.7 km). Of medium difficulty are O Val de Meis (13.8 km), the Ruta da Chanca (9.5 km) and the Ruta do Monte San Martiño (15.2 km). For the most experienced riders are the Panorámica do Monte Castrove (12.2 km), the Ruta de Bordóns (13.4 km), Vistas de Arousa (14.3 km) and the Circuito do Campo Ladrón (17.4 km).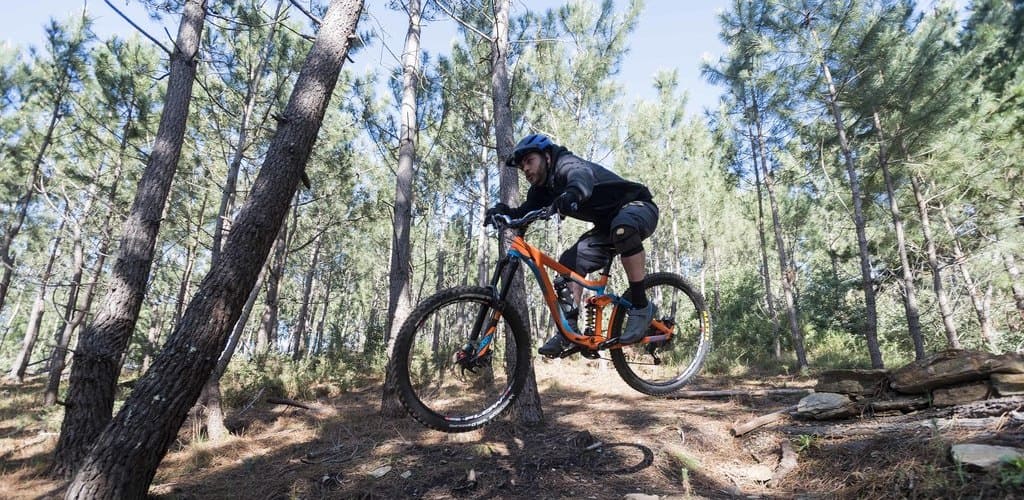 The ideal thing if you plan a mountain biking getaway is to spend the night in one of the excellent country-house hotels in As Rías Baixas. This allows you to be in contact with nature and not lose the magic of the experience through the mountains or the coast of the province. Another advantage of this sport is that the varied orography of As Rías Baixas allows you to organize both challenging and family rides. And, if you travel with children, you can follow the path of the Lérez River, included in the network Natura 2000, or the bicycle lane of Baiona, which passes by the mouth of the Miño River and offers stunning views of the Ría de Vigo.

List of adventure tourism companies in the province.
Adventure tourism companies