Rías Baixas is the perfect place to experience your passion for adventure
By land, sea or in the air, the province of Pontevedra offers you a wide variety of options to exercise your body surrounded by impressive landscapes. Surfing, sailing, water skiing, rafting, climbing, rappelling, bungee jumping, canyoning, mountain biking and balloon or paragliding trips... As Rías Baixas is a complete multi-adventure destination for adventure tourism lovers.
You can choose between coast and inland. You decide, you can surf the waves in the Atlantic Ocean, fly over the impressive coastline or descend the river canyons. Nature will be your best ally!
A pleasant climate and a varied offer of active tourism make As Rías Baixas the best option for travellers looking for a perfect combination of leisure, nature and good food. If you want to live strong emotions, in the province of Pontevedra you can enjoy a wide range of different sport activities. In addition, there are companies specialised in adventure tourism that will make you fly, surf the sea waves, go hiking or cycling, or dive around the Atlantic Islands.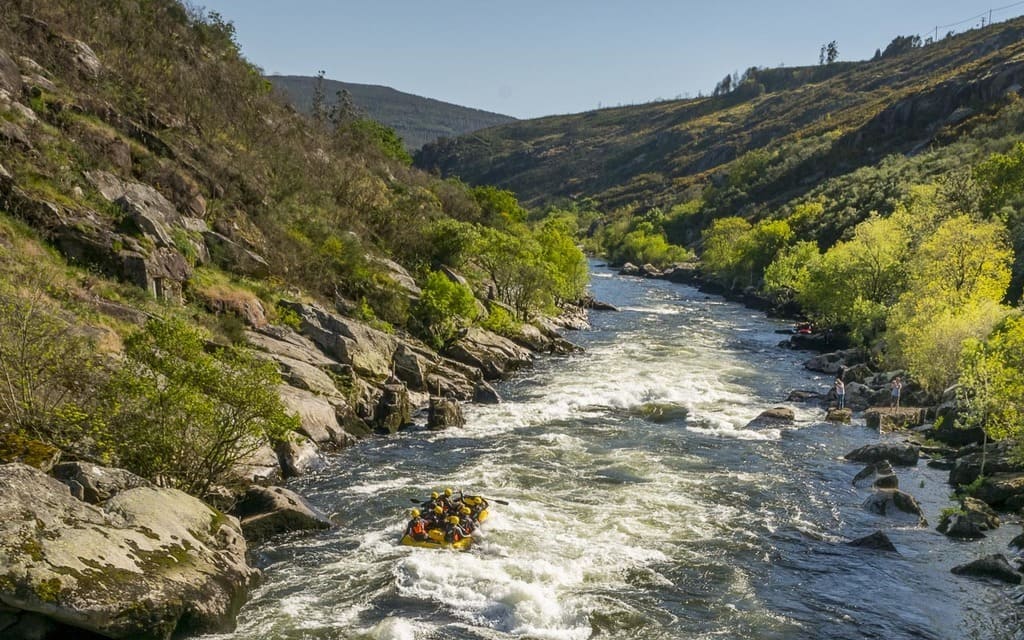 Rafting in Pontevedra
The province of Pontevedra boasts attractive mountain ranges for hiking or horse riding, as well as open-air walls perfect for canyoning in Ponte Caldelas, O Rosal, Cerdedo or the Luneda Canyon, in A Cañiza.
Mountain biking is another excellent option. If you dare, you can do bungee jumping at any of the bridges over the Lérez River or in the town of Arbo. There are also companies that organise hydrospeed, canoeing, kayaking or rafting activities.
If you prefer sea sports, you also have a wide range of activities to choose. In this province, you can go sailing or scuba diving in its calm waters.
The final attraction in As Rías Baixas are the air activities. Paragliding over the region of O Baixo Miño, flying through the skies of the Ría de Vigo in a small plane, or admiring the Cíes Island or the Rande Bridge while driving a helicopter are some of the new proposals. Clear your agenda and come to live strong emotions in the province of Pontevedra!
List of adventure tourism companies in the province.
Adventure tourism companies