Diving, kayaking, flyboarding… As Rías Baixas is the ultimate destination for sea sports
The three rías (coastal inlets) in the province of Pontevedra are the perfect spot for practising a wide range of sea activities for all ages, tastes and times of the year. No matter if you like peacefulness or are passionate about risk, you will find different options and experienced companies that will make your dreams come true. The province is a benchmark for water sports, since it boasts about 24 coastal towns, thirty ports and four rivers, namely Miño, Lérez, Verdugo and Ulla.
The province is aimed at promoting tourism linked to the sea but from a different perspective. In addition, it enjoys perfect conditions for sailing all year round. If you are a sailing enthusiast, you should know that the towns of Sanxenxo and Portonovo and the village of Combarro are the best places to practice this sport in the Ría de Pontevedra, and Pedras Negras, A Toxa and Vilanova de Arousa, in the Ría de Arousa.
For scuba diving, three of the most specialized towns are Vigo, Bueu and Sanxenxo, which offer a wide range of intensive courses or one-day trips to get to know the enormous biodiversity of our privileged waters.
In the south, the Ría de Vigo is ideal for sailing and the Patos Beach is among the most popular places for Galician surfers. It also offers bodyboarding, longboarding and paddle surf activities. If you want to ride a jet ski, you can do it in Baiona, Arousa and Sanxenxo. There, you can also rent a boat without license. Kayaking is also a good option if you want to sail near the coast of Vigo or O Morrazo, while admiring the National Park of the Atlantic Islands in the background.
And if you want to live stronger emotions, flyboarding and water skiing courses are also available in most coastal towns. If you want to have fun in a natural environment, you can organise a riverboarding weekend in the rapids of the rivers Miño or Ulla. It is considered the most modern and exciting whitewater sport.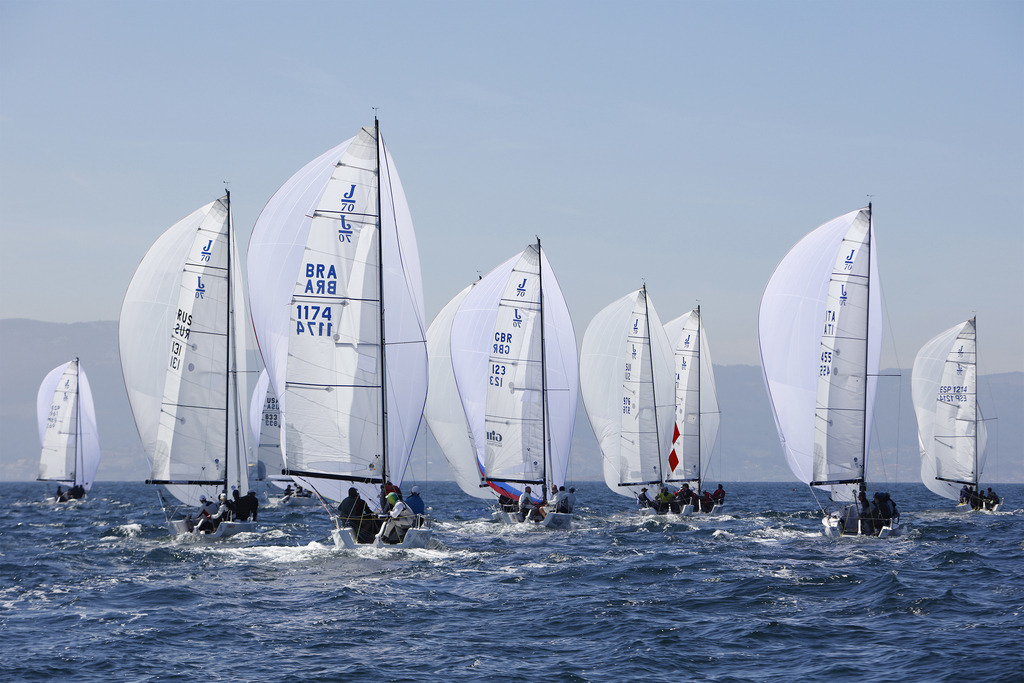 Sailing regatta in the coastal inlet Ría de Vigo
List of adventure tourism companies in the province.
Adventure tourism companies